Old world charm of Galle hidden among abstract strokes
View(s):

Hidden within the splatter of fiery colours of Mueen Saheed's canvas is the essence of Galle, of colonial times gone by and of a city romanticised for its old world charm.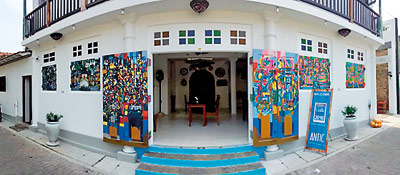 Mueen Saheed, whose art works are highly narrative is an established artist based in Colombo. He does not believe in photogenic paintings or art that's intended for subjective value, but the elusive kind; a contemplative discovery.
Mueen's latest project is a case in point. He spent over 1,000 hours studying and painting Galle and its majestic fort. The paintings are a reflection of the rich history of the Galle Fort.
The canvas for this was timber doors and windows for a new boutique hotel which opened its doors this past week in the heart of the Fort.
Art festival aficionados when looking at the paintings would usually know that "something" is hidden among the green, blue, yellow and red.
The painting requires a few scans of the observer's mind's eye to make the final determination. And it varies for each individual.
The four sets of door panels show the colourful period of Galle and its inhabitants, culture and influences of the locals and their way of life.
The Pot is a unique feature where the bottom of it is painted with the rich culture of Galle while the names and dates are painted to reflect the history.
Mueen Saheed also presented President Maithripala Sirisena, with a painting on Yahapalanaya during the President's first year anniversary celebrations held at the BMICH last week.
The painting is reflective of the President's pledge and the 100-day programme. The artwork also calls for unity and co existence of political parties with profound respect to all faiths in this country.
When asked of the momentous occasion, the artist remarked that the President was impressed with the artwork and spent a few minutes onstage speaking to him about it.
Those wishing to contact the artist may call him on 0777747977 or mail him on mueen@mueensaheed.com