Her own secret world
Anuradha Roy, who was longlisted for the Man Booker Prize 2015 among other prizes, tells Adilah Ismail of how her books take shape
View(s):
Anuradha Roy's habit of amassing notebooks (and she has many by now) began when she was a child.
Her first notebook, she remembers, was given by her mother to distract a much younger Anuradha from being upset that her brother was old enough to head off to school and she wasn't.
She laughs about it now as she recollects how jealous she was – years later it may seem silly and unimportant, but the hurry to grow up is one of those puzzling aspirational exigencies of a child's life.
The notebook was one of those classic parenting techniques – where a distracted parent would perfunctorily divert a petulant child's attention and also indulgently give her a sense of usefulness.
And it worked a little better than her mother may have anticipated.The notebook began to fill up, Anuradha began jotting down slivers of stories and marginalia.
What began as a childhood exercise is now an instinctive extension of her adult life and her notebook accompanies her wherever she travels, accumulating vignettes and anecdotes – "It's like taking photographs but it's in words," she explains.
In Galle for the Fairway Galle Literary Festival, Indian writer Anuradha Roy's third novel, 'Sleeping on Jupiter' has ended 2015 on a positive note.
The book was longlisted for the Man Booker Prize 2015, the Hindu Prize for Best Fiction as well as the DSC South Asia Prize 2016 and also made its way to several year-end book lists.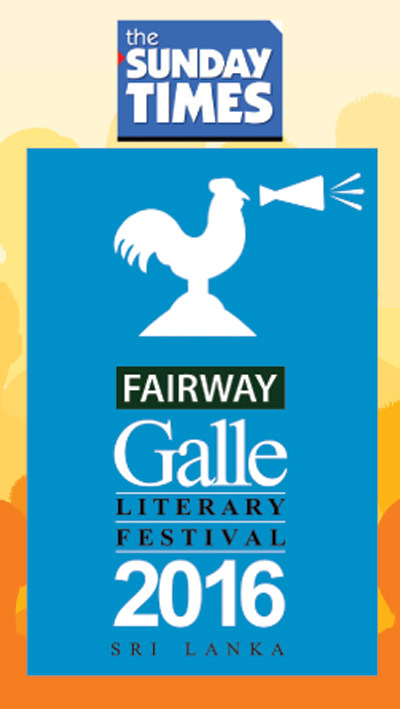 "It's a bit like a wildcard player in the Wimbledon reaching a quarter-final with one of their idols – this being in a longlist with writers like Marilynne Robinson and Anne Enright," exclaimedAnuradha, describing her initial response to the Man Booker shortlist in a previous interview.
'Sleeping on Jupiter' opens with a brief veneer of calm which is rapidly ruptured by violence – seven-year-old Nomita witnesses her father being murdered by armed men and is separated from her mother and brother in the span of the first few opening pages.
After being adopted abroad and having built a life in Norway, Nomita Frederiksen – now 25 – returns to the temple town of Jarmuli.
The novel threads the lives of numerous characters with descriptive prose, dealing with love, violence and religion all the while unpeeling the layers of duplicity embedded within society.
At a time when most people flock into cities, Anuradha and her husband prefer the solace of the hill country. Dividing their time between the best of both worlds, she spends most of her days in Ranikhet, a tranquil hill station in Uttarakhand, India.
The town's tourism sales pitch is often its quietude and beautiful views of the Himalayan range. Having spent portions of her childhood travelling, walking around and living in tents (her father was a geologist), living in the hills was an easy choice.
With its sprawling views, forest vistas and three dogs, the small house they live in affords a welcome sanctuary from the concrete madness of a city for the husband and wife duo, who also run a publishing house, Permanent Black.
The training of her past lives as a journalist and an editor (at Permanent Black, Anuradha eschews editing to take the mantle of designer), have carved its grooves on her writing career but it's the parallels between her pottery and prose, which are interesting.
When studying in Cambridge for her English degree, Anuradha stumbled upon a studio which was located in the basement of a church. Students who signed up for the free pottery classes were given free rein at all times in the studio.
Her interest piqued, the studio became the perfect place for a homesick student navigating foreign waters. "Pottery is really something that I do for myself.
It's not as though I sell or am very good or anything. It gives me a huge amount of happiness to make things which I can use," she says simply.
The smallest of imperfections – an uneven side, a miniscule fissure – in pottery would result in a teacher rapidly slicing the clay from the wheel and throwing it away, signalling the student to begin again.
This self-regulated ruthlessness and rigour spilled over into her writing life and Anuradha repeatedly exercises this ruthlessness and detachment when a piece of writing remains dead on the page, stubbornly refusing to be coaxed to life, often chucking out chunks of writing.
She pauses for a minute, trying to recollect a quote by Bernard Leach, British studio potter and art teacher.
She paraphrases slowly, elaborating the difference between a good piece of pottery and a flawed one: "He said that in a good pot you can see that life has flown through the hands of the potter for those minutes that he worked at the pot.
And that's the sense you get from some things you write and some things that are dead on the page immediately."
Anuradha's favourite part in the entire writing process is her first year secretively immersed in complete isolation within the book. As soon as someone else is privy to the draft, this cocoon unravels.
The tethering of a writer to the characters and places which painstakingly come to life and acquire their own compulsions and energies under their creator is something that Anuradha articulates strongly and evidently clearly enjoys.
She says: "This part of the book [the part of the writing] is what I love best – it's exactly this point when I'm completely alone with that book and it's something that I feel is a secret that is burning inside me.
Nobody else knows this world and these people [the characters], and I am living with them and in their world, alone. The moment someone else reads that draft, that sense is gone.
So I really treasure this first year when I'm writing this thing completely and it's taking shape, adding details as I go along."