It's all for the writers, books and ambience
Duvindi Illankoon and Vinusha Paulraj on Thursday in Galle
View(s):
The Fairway Galle Literary Festival began, as all things in Sri Lanka inevitably do with plenty of lights, sounds and people ( and an unusually small number of delays).
Many of Thursday's attendees seemed bowled over by what they called "a spectacular opening ceremony" on Wednesday evening but it was a love for literature that had them skipping lunch and running from one venue to another, on the first day of a packed programme!
The festival in Galle draws to a close today, January 17 and on Thursday, we caught up with some enthusiastic attendees with books spilling out of packed bags to find out what they thought of its much awaited return.
Vineetha and Thinushka Gooneratne were attending for both the books (Vineetha) and the architectural heritage and many sights of Galle (Thinushka).
Vineetha who has attended GLF a few times already had whittled down the programme to what she thought might turn out to be "interesting authors."
This includes Hugh Thomson, whom they had just listened to speak about an extraordinary trip to the Nanda Devi Sanctuary in India.
Like many others at that session, they were blown away by the author's gripping tale and stepped out to buy the book from the book stall nearby.
Thinushka was here more for the excursions in and around the Fort, which she noted were well planned and meticulously scheduled.
Vineetha was more interested in catching some authors whose work she admired. She was mildly disappointed by the pricing of the tickets- "it doesn't allow you to fully experience the programme"-but noted that at least there were plenty of sessions to choose from!
First time festival-goers Nirikshana Mendis and Udara Hatharasinghe were nothing but excited for the next few days, which they hoped would bring "many books and good authors".
These English students from the University of Ruhuna were in attendance at almost every session, and declared themselves very happy with what they'd heard so far.
Attendees sprawling-out on cushiony mats under colourful, lazily fluttering flags, or waiting in line to quickly get a book signed, meant the Lit Café was a constant hive.
Keeping the place clean was partly T. Ratnapala's responsibility. Our questions came to him at an inopportune moment, as he was hunting for a garbage disposal bag to fit a bin with.
Employed by the CMC for 23 years, "I hear these sessions are of great use, because they discuss books" this resident of Kurunduwatta said.
Dr. Seemah Rajapaksa's hat failed to hide her excited smile. Among those who've returned to the festival, "I love books" she said, pointing to her latest purchase from the festival's array of offerings – a title by Meg Rosoff, adding "I wish I read it before" while sitting through a discussion at the Maritime Museum.
Drawn to the idea of possibly mystical dogs, solving life problems "I will be passing this book on to my daughter once I finish – it's a story that anyone can relate to," she said
Midday, we stepped out of the Hall De Galle and into the Fort, and our first stop was the famed Galle Fort library – the oldest in Sri Lanka at a grand old age of 185 years.
Here Librarian S. Abeywickrama was full of praise for the festival's organisers for bringing new visitors to the Fort with every edition.
Author Rohini Mohan had wandered in and after quickly snapping a picture of an artifact, "I can't believe that this place is over 180 years old" she told us.
Much of the festival's relaxed vibe is owed to the frozen-in-time feel of the Fort, she conceded. "You feel transported" much like one does when lost in a book.
"There's time for us to discuss, or even casually chat." Her last visit to the Fort was "as a tourist," but things have changed she feels, "now I feel like I'm a part of it."
Hoping to catch a session by two diaspora writers on Sri Lanka, she said "It would be interesting" to explore the externalized point of view.
Walking back to our hotel we were drawn to Kamala's Kitchen by Kamala herself and her tempting array of Lankan snacks like manioc, boiled gram and even little pieces of kiribath laid out for visitors to the lit fest. Our curiosity was piqued because this was clearly a makeshift snack shop-we found out from the owner Siyana Kaleel that the place was actually a Montessori on an average day-"I'm just trying to raise some funds for the school by offering snacks for GLF attendees," she shared.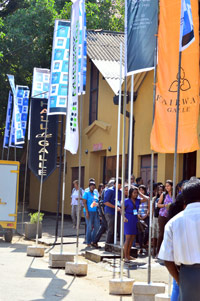 "You know, the festival is not just a good opportunity for book lovers-in the Fort it's such a great opportunity for residents as well, because all these people come into the Fort and walk around. It's very relaxed and lovely for us to see."
SESSIONS
Out on Main Street: Lesbian, Gay, Bisexual, Transgender, Intersex and Questioning (LGBTIQ) Lives and Realities in the World
A recurring sentiment expressed by Rosanna Flamer Caldera and Shani Mootoo, two of the session's most vocal panelists, was about the necessity of identifying individuals in the LGBTIQ community for their work and lives, as opposed to by their sexuality.
"I look forward to a day when the word gay or lesbian does not have to be affixed to who a person is and the work they do," noted Flamer-Caldera. Other panelists at the session included author Ovidia Yu, who spoke about the basic privileges denied to LGBT persons and film director Visakesa Chandrasekaram.
Hugh Thomson on Nanda Devi – A Journey to the Last Sanctuary
There's no denying that Hugh Thomson is a stellar speaker, the kind you immediately like because while he's exceptionally knowledgeable about where he has travelled, he doesn't in any way speak down to the audience.
Thomson was eloquent about his expedition in 2000 to Nanda Devi, a sanctuary on the border between India and Tibet that has been closed off to the public for decades following a failed nuclear-related incident.
Thomson noted that while he was by no means a mountaineer, he had an abiding fondness for sacred landscapes-a category Nanda Devi defiantly falls into. Thomson has also published a book titled 'Nanda Devi'.
Andrea Maria Schenkel on The Murder Farm and Ice Cold
Schenkel is the author of two crime books that have immensely chilling titles: 'The Murder Farm' and 'Ice Cold', both based on true stories, written in German and translated into multiple languages around the world.
Schenkel discussed the harsh punishments dealt out to her books' perpetrators, her own conflicting emotions in choosing a moral ground in her books and in real life, and about being inspired by Asterix comics as a child and by her "tiny little grandmother" who loved narrating gruesome tales of murder, to become a writer.
Jeet Thayil on Narcopolis
Narcopolis, which was Thayil's text in discussion is the poet's first novel. Set in the seedy parts of Bombay as it was then called, his honesty was compelling.
"Poets have more fun" he boldly declared to an audience specked with novelists. Between captivating readings of his evocative work, the audience came to know how his digression-filled story-line in some way reflected his own experience with the opium dens of old.
Meg Rosoff on Jonathan Unleashed and How I Live Now
On channelling her inner teenager at 47, Rosoff's discussion tackled the great debate of how one might pen a convincing novel.
Contrasting her story of a reclusive, verging on selfish teenager to her newer title 'Jonathan Unleashed', she disclosed that as much as her former story "was about a teenager" many of the themes are difficult ones, well beyond the conception of her protagonist's peers.
Fiona Shaw on Shakespeare and Friends, Ibsen and Enemies
In easily one of Thursday's most brilliant sessions, actress Fiona Shaw had her audience enrapt for over 90 minutes. Shaw's powerful stage presence honed from years of experience as one of the world's leading classical actors was a pleasure to watch.
She explored the evolution of language in English theatre, charting Shakespeare's creative restructuring of the language to pull in audiences, to Ibsen and later Beckett's usage of the language to provide the audience with some responsibility for their own engagement.
Minoli Salgado and Nayomi Munaweera on Writing Sri Lanka from the Diaspora
Set in Lanka's Southern coast, it was a homecoming of sorts for Minoli's story. Treating her audience to a reading of her novel, A Little Dust in the Eyes the author's animated performance lent life to the session.
Reading from her work, Island of a Thousand Mirrors, Nayomi splayed colours in the listener's imagination with her words.
EarthLines by Anoma Wijewardene with words by Ramya Jirasinghe and a reading by Amitav Ghosh
Amitav Ghosh prefaced his reading with an apology to the poet; "I went for Elocution lessons as a child and I was absolutely terrible at it," he joked, before going on to deliver (naturally) a perfectly acceptable recital of Jirasinghe's poem Deliverance. Wijewardene's paintings and installations were beautifully staged throughout the venue.
Visakesa Chandrasekaram's The King and the Assassin
Haunting music set to masterfully composed lyrics added colour to Chandrasekaram's bilingual rendition of his book, The King and the Assassin. Themes of power, deforestation, and racism were highlighted in lingering mellow melodies which danced in the audience's mind long after they were performed.
Sea Legs
An assorted chocolate box of dances marked the end of a hectic day.