'The Revenant' and 'The Martian' take top awards at Golden Globes
View(s):

Revenge drama "The Revenant" and space adventure "The Martian" took the top film awards at Sunday's Golden Globes, setting them up as formidable Oscar contenders after a night of surprises and stinging barbs from return host Ricky Gervais.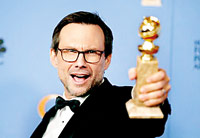 Pioneer-era tale "The Revenant" won three awards including best drama film, beating out front-runners "Carol," and investigative journalism drama "Spotlight." "Revenant" star Leonardo DiCaprio won best drama actor and Alejandro Inarritu was named best director.
"This is the most difficult journey I've embarked on," said Inarritu, who last year won directing and best picture Oscars for "Birdman."
"We struggled in low temperatures and difficult conditions to make this film happen, but we all know in this room that pain is temporary but a film is forever, so who cares?"
In a closely-contested men's field, DiCaprio prevailed over "The Danish Girl" star Eddie Redmayne and "Concussion" lead Will Smith, to win best actor for his role as a fur-trapper seeking retribution.
DiCaprio, 41, who has yet to win an Oscar, received a standing ovation and said he shared his award with indigenous people around the world.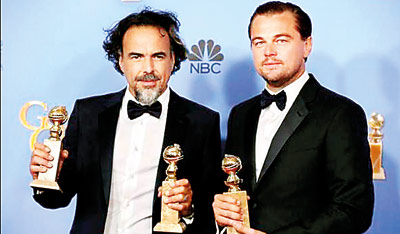 "It is time that we heard your voice and protected this planet for future generations," the actor, an environmental activist, said.
The Golden Globes, handed out by the Hollywood Foreign Press Association, are the first major film honors of the Hollywood awards season that culminates with the Oscars on Feb. 28.
They can give much-needed momentum to films in a crowded field, and in recent years, top Globes have gone to movies that went on to win the Oscar for best picture.
Damon won best comedy actor for "The Martian," about an astronaut stranded on Mars, and the film also won the best comedy/musical movie category.
"I've made a lot of movies that people just didn't go to see, so to make a movie that people just enjoyed this much … it really came down to (director) Ridley Scott," Damon said.
'Mr. Robot' wins Golden Globe for best TV drama series Denzel Washington awarded Golden Globe lifetime achievement honor "Carol" went into the night with five nominations but came out empty-handed, as did "The Big Short," about the financial crisis, and admired Catholic Church sex abuse probe film "Spotlight."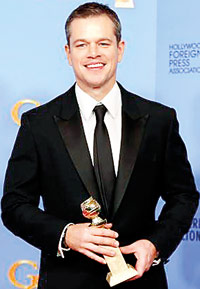 Rising star Brie Larson, 26, beat veteran Cate Blanchett to win best drama actress for her role as a young woman held captive for years with a young son in "Room," while Lawrence won best comedy actress for "Joy," about the Miracle Mop inventor.
Lawrence, 25, dedicated most of her speech to thanking "Joy" director David O. Russell, with whom she has made several films. "David, I want us to be buried next to each other. I really do."
Other key winners included Sylvester Stallone, 69, who received a standing ovation as best supporting film actor for reprising his iconic role as boxer Rocky Balboa in "Creed."
"Steve Jobs," a controversial look at the late Apple co-founder that floundered at the box office despite warm reviews, took home Golden Globes for supporting actress Kate Winslet, and screenwriter Aaron Sorkin.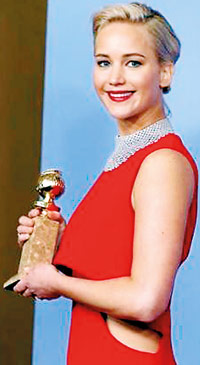 (REUTERS)