Lit. Fest hits the hills
By Duvindi Illankoon and Vinusha Paulraj
View(s):
The Galle Literary Festival's colours flew high in Kandy last week. At the city's heart, Queen's Hotel was cocooned in fluttering blue flags, marking the Festival's presence in the hills for the first time in 10 years on Saturday, January 9.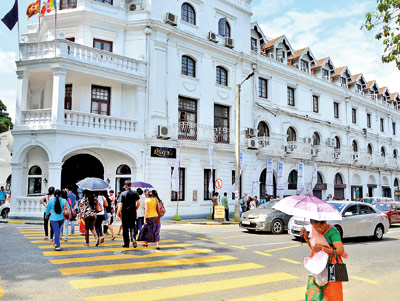 Several authors including Sebastian Faulks, Olivia Yu and Hugh Thomson arrived in Sri Lanka a week ahead of the main festival's schedule to make it for this hill country literary event.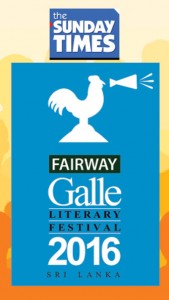 ---
Sessions on Saturday,  January 9
Sinhala Poetry: A vibrant literary form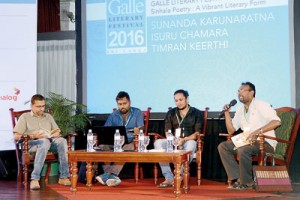 The session's star was Timran Keerthi, winner of the 2015 State Literary Award for Sinhala Poetry.
The mildly reticent, refreshingly down to earth poet was a day labourer when he received the award for his collection of poems entitled 'Yannang Chandare'. Sunanda Karunarathna was eloquent, urging poets to speak about the uncomfortable and redefine norms.
Young poet Isuru Chamara added that there was a growing market for poetry among young people-"it's not a dying industry at all."
From the Cloud: Grassrooted Trust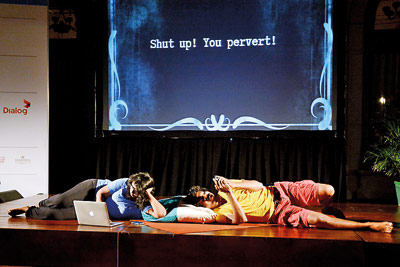 The hall was packed for this session and for very good reason-the Grassrooted Trust, in a series of trilingual skits, tackled issues of our time.
The talented young actors, writers and directors that the trust works with were brutally honest, often hilarious and completely on the spot.
Faulks on fiction
A collective sigh echoed around the room when Sebastian Faulks did his best snooty Mr. Darcy impression, as part of a critically acclaimed talk on heroes, villains, lovers and snobs in British genre literature.
While he drew from characters like Sherlock Holmes, Becky Sharp, and Bond, Faulks' most powerful insight was actually into Darcy: diagnosing the character's moodiness and general lacklustre attitude towards life as depression, Faulks presented the day's cleverest metaphor-"Elizabeth Bennet was Prozac in an empire line dress to Darcy."
Shani Mootoo on a spectrum of topics
Shani Mootoo thinks before she speaks, weighing her words carefully but with an unscripted honesty. Mootoo's work tackles a spectrum of topics including sexuality, gender and acceptance.
She says, of not always unravelling the plot for her reader-"some things should not make sense. Some things are monstrous, and they cannot be accepted."
---
Sessions on Sunday, January 10 
Ovidia Yu on her two Aunty Lee novels
Asian Aunties seem to have a flair for getting to the bottom of things, as does Yu's protagonist, Rosie Lee. Dishing out pointers on mystery writing, her witty way with words took her audience on a journey into Singapore's ultimate detective- restaurant owner's world.
A walk through England with Hugh Thompson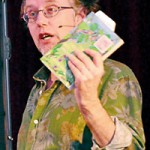 Hugh Thompson's eloquent description of his trek through the Ickneild way unearthed an impressive number of the land's lesser celebrated landmarks.
"I'm generally more concerned with pre-history" his audience was told. Leafy lanes, foliage fringed paths and the occasional dog-walker added colour to his account of the 400 mile walk.
Treading through potential archaeological gold-mines, left behind by Celtic druids, Vikings, Romans and the Anglo Saxons his thirst for answers wasn't lost on the crowd.
---
Views from the audience 
Attending the first session on Sinhala language poetry were Professor Ranjini Obeyesekere, one of Sri Lanka's best known scholars and Professor Piyaseeli Wijemanne alongside Dr. Malini Epa.
"Kandy is hungry for events like this!" was the response when asked of the timeliness of the event. When called upon during the session, Prof. Obeyesekere simply requested to hear some more poetry, which she thoroughly enjoyed.
"We would have never made it to Galle, so the festival coming to Kandy is such a blessing," said Professor Wijemanne, suggesting perhaps a bit more publicity for better attendance.
Also in attendance were tomorrow's big names in the literature scene. Currently in their 4th year of a specialised degree in English Literature at the University of Peradeniya the class of five felt fortunate to be a part of the festival in their home-town.
This was their first festival experience and "We thought it was going to be all about English literature," which they later learned wasn't the case.
Inspired by poets like Timran Keerthi, Erandika De Silva says his story invokes some serious introspection. "I was thinking, 'What am I doing with my life.'"
Delighted that "the focus was not on classics, but contemporary literature" Ruwanthi Edirisinghe hoped that the exposure would seep into their dated syllabuses.
Interacting with the authors who were "friendlier than we imagined" is significantly better than "searching for book reviews online."
Sahan Wanniarachchi feels there's much inspiring to be done in universities and schools, which could benefit from programmes of this nature.
A student at CIS in Kandy, Shanela Ranaraja who has opted to study Literature for her A -Levels said her interest in the two genres of literature discussed on Sunday brought her to the Festival.
"There are a lot of people in Kandy who are interested in the arts but they just don't know where to find like-minded people." A Facebook page advertising the Kandy sessions would have brought-in a bigger crowd, she felt.
Jurinesz Shadrach and his friends were at the evening session – Jurinesz had attended the last GLF and says he saw the banners at the hotel and asked his friends if they'd like to go.
Tne Grassrooted session in particular was timely, he noted. "Kandy doesn't have opportunities like this often. But if more events like this present themselves I think the younger crowd would definitely turn up."