Marco Pierre White to conduct ultimate Master Class
View(s):

Cinnamon Hotels & Resorts will be hosting Celebrity three Michelin star chef and Judge of MasterChef Australia – Marco Pierre White on a tour of Sri Lanka from the 18th – 30th January 2016.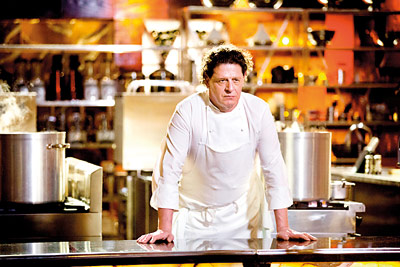 One of the many sub events that Cinnamon has conceptualised and will be executing is the ultimate 'Master Class' for Executive chefs and culinary professionals of Sri Lanka.
Marco Pierre White will be providing a "hands-on" learning experience to the entire industry of Sri Lanka and will cover a series of themes relevant to the chefs and culinary industry professionals over a four hour period.
All participating chefs will have the opportunity for sitting down for lunch with Marco. The master class will be held on the 30th January from 9 am to 1 pm at Cinnamon Grand Colombo for an exclusive audience of 30.
Marco will be having a one-on-one engagement with the participants and also be creating one of his very own signature dishes for the chefs. During the master class, Chef Marco Pierre White will be addressing key topics such as:
Incorporating innovation in the kitchen
Here, he will discuss new trends in cookery, use of new ingredients and the best methods to use them, and new techniques in cookery.
Juggling ingredients
Marco will talk about how to work with limited availability in ingredients in the kitchen and how to operate a low cost yet high quality kitchen, also on how to cook for diverse palates in one restaurant, thereby catering to different guest requirements in one go.
Synchronising
Finally Marco will share his learnings on how to synchronise and pair unusual ingredients, to put together a magical dish.
Personal interaction with Marco Pierre White at this session will be a key component of the workshop giving chefs the opportunity to engage in conversation that could play a key role in their careers and personal development as culinary specialists.
His incomparable personality will combine with his expert knowledge to make the master class one of the most important dates on the culinary calendar, incidentally also their first one for the year, making it an excellent kick off to 2016.