Shehan's debut studio effort
By Duvindi Illankoon
View(s):
Shehan Somaratna wrote his first song for a lady love – as one does. It didn't work out but he doesn't mind because it set him off on a musical journey that continues to the day.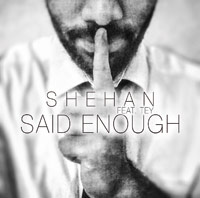 Shehan has just released his music on several platforms including iTunes and Spotify and awaits the response to his work.
"I've always been musical," he explains. His dad plays the violin, his mum the piano and his brother is Ryan Somaratna, of Yes FM Superstar fame.
Shehan trained under Menaka De Fonseka Sahabandu. Presently, he is based in Bristol in the UK where he works as an engineer for a consultancy firm.
Living in multicultural Bristol has proved to be a blessing, he says, "because you meet all sorts of musicians and make so many connections."
In December Shehan pulled off a concert with a group of musicians he met through work, at a wine and sherry bar in Bristol (where he is resident pianist on Fridays) and through his friends.
Inspired by this, he enlisted their help to record a new track.
The song, 'Said Enough', was written a few years back on a train. "I played around with it a lot until my housemates were sorely tired of me," he laughs "but it only started coming together properly around four months ago."
Shehan started composing a few years ago because he felt that not enough Sri Lankan musicians were making original content in the English medium.
"If you watch a show it's all Broadway and jazz and that's very nice, but we need to also create an environment conducive to original work in the medium."
His first song, 'Sunshine In My life' was written while in school, and the creative impetus did not abate. Moving countries and trading homes, Shehan stuck to his writing habit.
'Said Enough' is produced by Daniel Weerawardena, with backing vocals by Teyfika Bicak. Teyfika came on board after Daniel pointed out that the song was lacking in something – Shehan was confounded at the start but soon realized it needed a chorus.
Teyfika is also on violin, with Jan Jisa on drums and Giacomo Sotgiu on the bass guitar.
The track was released on Jan 1; Shehan doesn't have a marketing team and says he's learning the ropes as he goes along. He laughs when asked if he's been "that guy on Facebook", the one who inboxes everyone with links to his work.
"I've just made what I've done interesting enough for people to click on! That's the great thing about releasing your work online though – there are no limits geographically and publicising is intuitive, proving you select your audience well and send your music off to the right places."
You can find Shehan's music on iTunes, Spotify and SoundCloud.