Carving out a niche in personal development
By Duvindi Illankoon
Author, theatre and advertising personality Brandon Ingram tells the Mirror Magazine about the inspiration behind his latest initiative "Brand On Thinking"
View(s):
Let me try out a cliché on you: a new year is for new beginnings, and if you've been thinking it's time for a change now is as good a time as any to do it.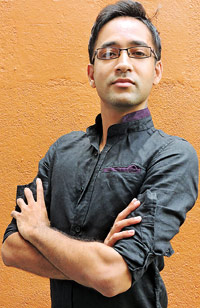 Brandon Ingram, well known theatre advertising personality and author, is resolved to help people do exactly this with 'Brand On Thinking', a training of sorts to help people become more improved versions of themselves.
Brandon is motivated by what he describes as "an innate flair for helping people see things about themselves that they may not," a skill set he honed with 11 years in the advertising industry.
Brandon is no stranger to theatre circles either, having worked with the Mind Adventures Theatre Company for almost a decade.
He chides us mildly when asked to elaborate. "We place way too much emphasis on qualifications in this country," But advertising has treated Brandon so well that it seems a shame to not-Brandon studied at Wesley College before beginning a longstanding career in advertising at 17.
He has since been awarded several times for his work in the industry. He is also an author, with published novels namely 'The Fairy Dance' and 'Living Their Lie'.
It was actually his work in the advertising industry that inspired Brandon to embark on "Brand On Thinking."
"There were things I began to notice about the corporate world that really troubled me," he says. "People give so much to their jobs and a systemic routine that they don't notice when it becomes irrelevant.
Having an opinion is not really something you're encouraged to do in the sector. It was very frustrating to watch." Coming from a theatre background Brandon was always at home making presentations and pitches.
"The one thing people can't seem to rely on is themselves," he notes. "They don't trust their own judgment. That's because what you learn at school doesn't prepare you for real life."
He knows he can't change the situation from the first stages of education onwards (although he'd really like to) but Brandon is determined to do what he can to change the status quo.
He quit advertising and started "Brand On Thinking" for corporates, initially, but has since realised that personal development is what he's passionate about.
He began with Chapter One: the Performance of Presentation in October last year. Here, he combines the worlds of theatre and the boardroom to develop a formula "that'll make the sale the first time around."
Chapter Two: 'Introspection 101' will happen in February. This is about "completely understanding who you are and where you're from," Brandon says.
He even goes as far as to use that well hackneyed term, "developing the brand of yourself" and grins- "the truth about yourself is important to discover what you can do."
These sessions aren't too long-they'll take up half a day (or 3-4 hours) maximum and you'll have to come in without expectations.
Brandon isn't exactly your average coach and he definitely doesn't plan on doing what you'd call an average session. For more details, visit www.facebook.com/brandonthinking/