Nittaya: Bilingual music journey
View(s):

Nittaya Chookaew Abhayawickrama, a Thai born singer, released her maiden DVD 'Maage Desa Maane' comprising four video tracks.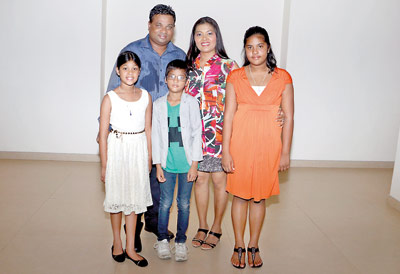 Two of the songs –'Meedum Sihina' and 'Maage Desa Maane' are originals and 'Roameeroa' is a popular Thai song. 'Meedum Sihina' and 'Maage Desa Maane' were penned by Veruna Liyanage and Priyantha Attygalle respectively.
The melody and music direction on this album was handled by musician Sunil Dharmasena and produced by Charuka Abhayawickrama.
This video also includes a cover version of 'Nim Him Sewwa' which was originally sung by Pt. W. D. Amaradewa as a tribute to his great work of music and it has become Nittaya and her husband's favourite song.
Nittaya (Chookaew) Abhayawickrama is a 42 year old mother of 3 – Natasha, Charuni and Charmin Abhayawickrama.
She is married to a Sri Lankan businessman, Charuka P. Abhayawickrama, the founder of CN Global Lanka, who is passionate about developing IT technologies and creating employment in Sri Lanka.
Nittaya, Charuka and the family live in Sydney, Australia and travel to Sri Lanka regularly to manage the business. Charuka and Nittaya runs CN Global Pty Ltd , a boutique software development company that offers many innovative technological solutions.
Nittaya was born in Thailand from a family of 6. She has enjoyed dancing and singing since a young child. She used to get up and sing in school and local fairs but never had any professional training.
She has graduated with a Bachelor Degree of Business in Accounting, and used to work as an accountant for major companies like Unilever Australia.
Due to her study, work and family, she had to put her singing passion on hold until her husband bought her private singing lessons for her 40th birthday. Initially, she took her son to singing classes.
Charmin Abhayawickrama is an 8 years old boy, who has shown so much talent and passion about singing and has dreamt to be a singer when he grows up.
Nittaya then realised that she had to pursue her childhood passion again and prove that it is never too old or too late to achieve your dream.
'This DVD is purely on my enthusiasm on music and nothing to do with any commercial purpose. My main ambition is to encourage my son to develop his musical talent to pursuit his career as a professional musician. He is really a talented boy' explained Nittaya.
As a foreigner, Nittaya found this to be quite challenging but she was determined to overcome the language obstacle both personally and musically.
Charuka is a great supporter and initiated this project. 'Maage Desa Maane' project started as recording one song with the services of Sunil Dharmasena and the end result was 4 songs with music videos.
'There are two original songs, 'Meedume Sihina' and 'Maage Desa Maane' and a cover of a Thai song called 'Roameerao' originally sung by popular singer Thitima Suthsunthorn' she added.