YESFM LIVE Broadcast
View(s):

YES101 & 100.8 along with Legends 96.6 is broadcasting live from Echelon Square till the 1st of January 2016.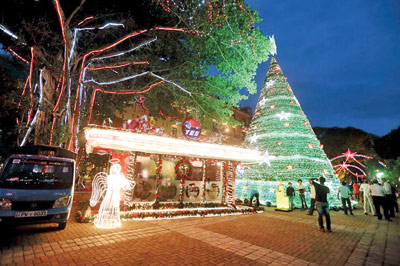 The broadcast is held amidst massive Christmas decorations that include a giant Christmas tree, beautiful lights, reindeers and lots of garlands!
YES101 & 100.8 has been conducting many interesting promotions and giveaways as part of their YESMAS broadcast. The giveaways included lots of money, Lego games, Star Wars movie tickets, vouchers from TGIF and HSBC, Bungee jumping tickets and a OnePlus X phone by Dialog just to name a few.
YESFM also celebrated its 22nd year in radio broadcasting on the 10th of December. Celebrations kicked off early morning and went on till late night with loyal listeners dropping in to the studio with goodies!
Listeners were given the chance to win cash by presenting anything that had the number '22'.
Other events that have taken place during this month are photo booth sessions, The Agency Quiz Night where advertising agencies were given the opportunity to win Rs. 100,000 and Jerome Speldewinde and Friends in concert at Christmas at the Square.
Follow them on Instagram @yesfm_srilanka