'SIGN' in action at Grand Kandyan on New Year's Eve
By Sanath Weerasuriya
View(s):
The newest addition to the Sri Lankan music scene, 'SIGN' will be in action at the Grand Kandyan Hotel in Kandy on New Year's Eve dinner dance on 31st December.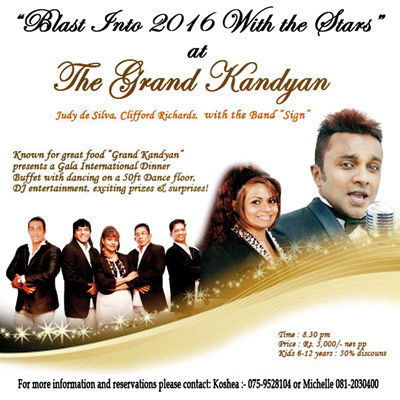 'SIGN' is just one month old and led by veteran musician Melantha Perera of Mirage fame.
A few guys who got together to play at a charity function in a Church recently, happened to continue and started gaining recognition rapidly.
It was not meant to be this way. But after that church function, we all thought. why not we continue like this as an outfit. So the 'SIGN' born' Melantha explained the story of 'SIGN'.
'SIGN' comprises of Melantha – leader and on bass, Dilum Ratnayake on keyboards, Chamal Rodrigo on keyboards, Devshan on guitar and Judy de Silva the frontline singer.
'We all sing and play all instruments. That's the versatility of this outfit. We cater to all kind of audiences' said Mela.
These members took wings for their third performance, where they flew to Dubai recently, to play in front of a large Indian audience at a venue named 'Al Nasir Leisure Land'.
Their maiden New Year's Eve gig will come alive at the Royal Peacock Grand Ballroom of Grand Kandyan along with Clifford Richards, popular singer and MC, who hails from the hills.
The fifty feet grand dance floor, DJ entertainment and the very latest lighting are some of the main attractions apart from the band 'SIGN' at the Grand Kandyan Dinner Dance.
The tickets are priced at Rs 5000/- per head and children under 12 and above 6 will offer 50% discount on dinner dance tickets.
'We wanted to make this event as a family affair. It is a whole new experience for Kandy audiences to celebrate an evening full of prizes and surprises with SIGN led by Mela, Clifford Richards and Judy de Silva who will keep you on your toes all night long' said Susitha Samaraweera, the General Manager of the Grand Kandyan Hotel.
For more details call Koshea on 0759528104, Michelle on 0812030400 or Melantha on 0714544092.