Finally found you
By Lanelle Hills Perera
View(s):
It could have been dubbed as a night blessed by the weather gods. Clear skies, an occasional gust of breeze, the moon above and handsome Enrique Iglesias serenading the crowd.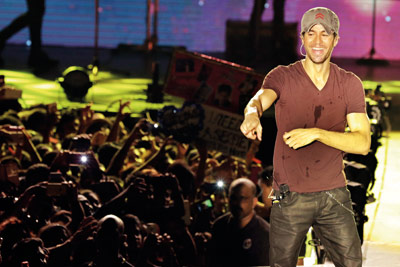 Who could ask for more? However, for fans that flocked in the thousands to the CR and FC grounds last weekend, the weather seemed to be the least of their worries to contend with. But let's meander away for a moment from the disorganized queues, the aching feet and the long wait.
With a youthful almost boyish charm, Enrique acknowledging his late arrival thanked waiting fans by rolling over the words – Bohoma Isthuthi.
And the sound of sympathetic 'Aaws' and 'Ahs' went up around the grounds – ­ yes, it was clear he was promptly forgiven for his tardiness.
For hardcore followers of the King of Latin pop the evening presented an almost surreal experience to see their idol in the flesh; for the rest of the attendees it was to witness the unprecedented ability of an A­-list artiste to hold the attention of thousands and generate a different kind of enthusiasm from a crowd ­ – an experience rarely seen in Sri Lanka before.
Once on stage he charmed the audience with his charismatic presence literally drawing a sea of hands towards him each one hoping that it would be their fingertips he would brush.
Barriers were dislodged in frenzied attempts to get up close and personal with him, while those who were a tad more adventurous took their chance to climb on stage and steal a kiss or an embrace, whichever he was willing to offer. All of which Enrique dealt with in his stride and calm, unflustered manner.
For Sri Lankan fans Enrique has been an artiste that never really went away. His sound never grew old but evolved from his romantic ballads to the more edgy sounds and dance tracks that are standard staples heard at any local club.
To many he represents the embodiment of pleasant memories of youth through his past hits such as "Bailamos" and "Hero." Perhaps for some it was those memories they drew on when they sang along with him to his songs with so much passion and physically touching him meant to revisits those times.
Or was it the Portuguese influence of our past history and its similarities that help us relate to his Spanish sounds. Either way Enrique is very much the entertainer capable of engaging his audience in a unique way.
He got the crowd going from the moment he hit the stage, ecstatic with songs such as "I'm A Freak," and "I Like How It Feels."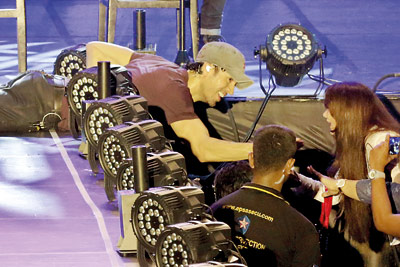 He touched the softer romantic side of his craft with a beautiful Spanish duet sung with a member of his ensemble and felt comfortable enough to sing the Spanish version of his song "Bailando" followed by "El Pardon/Forgiveness" much to the delight of the crowd.
All the while energetically running across stage, reading the handmade signs held up by those in the audience, reaching out to fans, even lying full stretch across the stage sometimes, to kiss them, pointing to people further from the stage and gesture in a manner to suggest that he saw them and that they meant something to him.
Although, few words were exchanged between him and the audience, he let those near him feel they were special with his eloquent gestures.
And at times Enrique himself seemed to soak in the energy from the crowd, especially during the refrain of "Bailando," listening intently to the chanting crowd repeat his name, over and over again.
The expression on his face almost pricelss , as if he was in disbelief that this little island nation could sing the songs he penned down, word for word back to him.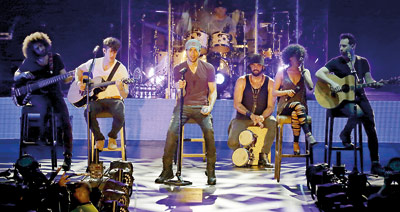 The show which had got off with such adrenaline accompanied by a chorus of constantly screaming fans, seemed a bit abrupt at the end.
Enrique who had previously left the stage, returned to perform his last song "Tonight (I'm Lovin' You)". With no formal goodbyes thereafter, fans continued to wait for him till the technical crew began packing up equipment on stage -­ such was the devotion of his Lankan fans.
And as for Enrique, the evening's performance was summed up shortly after the show ended in an Instagram post which read,"Sri Lanka you were unbelievable tonight. You've given me a million reasons to come back."
Organisers Live Events in association with REVD and Prime Residencies were behind the show Enrique Iglesias "Sex and Love Tour" LIVE in Sri Lanka.