Bajirao Mastani'
Bollywood box office hit is here
View(s):
Bollywood box-office hit 'Bajirao Mastani' starring Ranveer Singh and Deepika Padukone is now being screened at Excel World, Colombo.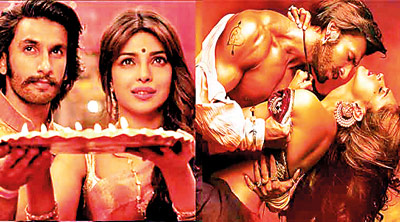 Sanjay Leela Bhansali's direction with worldwide record collection film also stars Deepika Padukon, Tanvi Azmi, Vaibbhav Tatwawdi and Milind Soman in the stellar cast.
Based on the Marathi novel Raauby Nagnath S. Inamdar, the film narrates the story of the Maratha warrior Peshwa Bajirao and his second wife Mastani.
Indian epic historical romance drama film was produced and directed by Sanjay Leela Bhansali, who also composed the music score of the film.
Bajirao 1, who fought over 41 major battles and many others, is reputed never to have lost a battle. Bajirao is described as "RANMARD" a man of the battlefield. Bajirao said to his brother "Remember that night has nothing to do with sleep.
It was created by God, to raid territory held by your enemy. The night is your shield, your screen against the cannons and swords of vastly superior enemy forces.
" Bajirao was a heaven born cavalry leader. In the long and distinguished galaxy of Peshwas, Bajirao was unequalled for the daring and originality of his genius and the volume and value of his achievements.