'Wednesday's Wolves' at MLH
View(s):

'Wednesday's Wolves', a female contemporary folk duo from Oxfordshire, comprised of Chrissy Renker and Ysabelle Durant will perform at the Terrace of the Mount Lavinia Hotel from 23rd to 29th December adding their mesmerising vocals to the conviviality.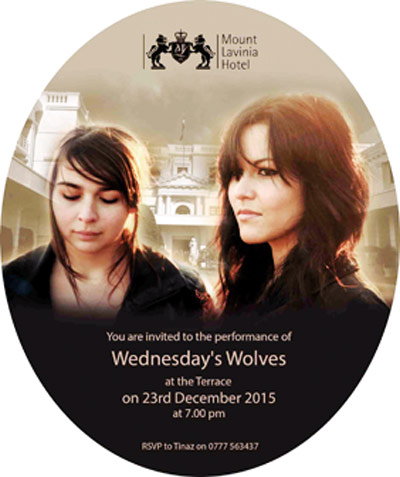 Drawing inspiration from Sufjan Stevens, The Paper Kites, Bright Eyes, Fionn Regan and Bon Iver, the duo have been writing and performing their own material at venues in and around London and Oxford.
In 2014, the pair were placed on Glastonbury Festival's emerging talent long-list; have subsequently played both Greenbelt and the Folk Weekend Oxford, and released two EPs, 'The Queen EP' and 'The Boatman'.
Their songs weave together simple guitar riffs, vocal harmonies and percussive instruments such as cajon and glockenspiel into a beautiful auditory fabric.