'Vessel': A collection of released artistic energy
By Shenali Perera
View(s):
'Vessel', an exhibition by Layla Gonaduwa, opened on November 17 at the Barefoot Gallery. Revolving around the concept of herself as a vessel, this collection of mixed media paintings and sculpture are soothing to the eye and mind.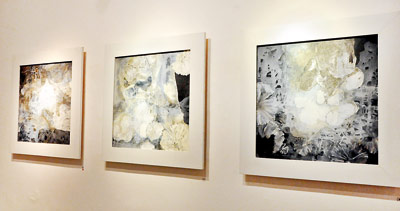 There is also a running motif of water that adds to the tone and density of this collection. "I've always had a natural affinity to water and each piece is based on real places that deeply affected me," Layla said.
Layla spent about a year on the exhibition's conceptualisation, but says execution happened fast in about half that time. "I thought enamel would be too harsh for something so personal," says Layla,who chose to work with a softer mix of oils, acrylics and archival ink rather than her usual copper and enamel material.
Her physical engagement with thework, layering each brush stroke, felt almost ritualistic to Layla. "It's almost as if the end result doesn't matter as much as the process which was so cathartic in the sense that it was a release," she says.
"Although some of these pieces look calm on the surface, the more you look the more there is to engage with."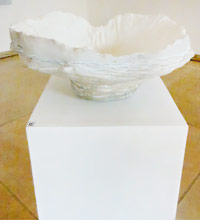 The vessel is symbolic of Layla and where she is in life right now, but could stand for anyone. "It has an empty feeling, in a way it is quite lonely, but I feel I'm at a stage where I'm more self-aware and can choose what to unload and what to retain in my life."
Never having received any formal training, Layla says she has "grown on the job". She was always known as a creative child, but only decided to pursue her passion seriously much later in life.
Although she claims she was never a young artist, Layla is encouraging of the increasing number of budding artists in Sri Lanka.
"It's a growing industry, but I also wish they did their research and got more exposure. Although it's great to have all these art spaces surfacing, some places try to influence what people think is good and bad art.
Young artists can sometimes be trend-orientated and that is a pity," she says. "What is important is sustaining your work. You need to evolve from one exhibition to the next."
'Vessel' will be on till December 6 at the Barefoot Gallery, which is open from 10 a.m. to 8 p.m. on weekdays and 11 a.m. to 6 p.m. on Sundays.