Await the sound of difference!
By Namali Premawardhana
Award-winning saxophonist Rudresh Mahanthappa who will perform in Colombo, talks about his "genre-defying music"
View(s):
On Friday December 4, the Dutch Burgher Union (DBU) will come alive with a sound that has not yet been heard in Colombo.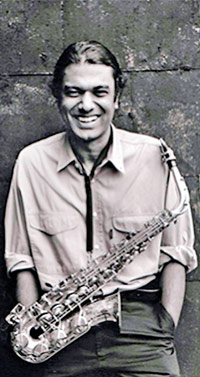 Multi-award-winning saxophonist Rudresh Mahanthappa together with his quartet "Gamak" will play selections from his recent albums at another "Jazz Evening" for the benefit of The Sunshine Charity.
The work Rudresh creates is heavily influenced by Charlie Parker and John Coltrane. These two and Michael Brecker, he says, are "the pinnacles of great saxophone playing".
"[They] inspired me to play and practise when I was young, and continue to do so now."
The saxophone is predominantly a jazz instrument and the names Rudresh names make perfect sense in this context.
But there is something else that plays an important role in his performance and compositions, setting them apart from any music that is intrinsically jazz.
Both Rudresh's parents are Indian but he himself lived in the US most of his life. This dual identity is the breeding ground for Rudresh's work.
He has spent much time studying South Indian (Carnatic) Classical music in depth, breaking it down to its basic building blocks, to make something completely new.
"My idea was to take whatever I learned…and really put it in a setting that has nothing to do with Indian classical music," he told Westword magazine in 2011.
What resulted is "Samdhi", an album of colourful and energetic sounds built on deep-rooted rhythms and melodic lines- the seemingly natural offspring of jazz and Carnatic music.
Rudresh calls his sound "a hybrid and synthesis of myriad influences that has evolved over 15 years".
And unlike much of progressive and experimental music which tends to disconcert an audience with incomprehensibly loose or complex composition, Rudresh's music is accessible and simply enjoyable.
"The biggest challenge through all my work is maintaining authenticity and avoiding exoticism," he says. "There are too many unsuccessful endeavours of melding Western and non-Western ideas that are superficial and pastiche at best.
Integrity and honesty reign supreme in creating meaningful work that truly touches the masses."
Accompanying Rudresh on December 4 will be electric bassist Rich Brown and drummer Dan Weiss.
"I consider both to be amongst the best in the world at what they do," he said "and am honoured to be in their company."
Rudresh first met Rich "about ten years ago" while he was playing with a group from Canada called auto-rickshaw.
"I was blown away," he says of the encounter, "and [I] knew that we had to work together".
Rich Brown is featured on "Samdhi" (2011) as well as Rudresh's later album "Gamak" (2012). He and Dan Weiss are among a few artistes that Rudresh collaborates regularly with, on a number of different projects.
Their extensive experience playing together under Rudresh's exceptional leadership to the band lends a deeply sincere yet easy chemistry to the collective performance. Dan Weiss has in fact been playing with Rudresh for over more than a decade.
On December 4 the artistes will perform numbers from both the "Gamak" and "Samdhi" albums. Rudresh promises that "this will be genre-defying music unlike anything you have heard."
Tickets for the 'Jazz Evening' with Rudresh Mahanthappa and Gamak priced at Rs.1,500 are available at the DBU. Call 077-777-5159 for more information.
Spreading a ray of sunshine
The Sunshine Charity was begun in the aftermath of the 2004 tsunami to support children affected by the catastrophe of December 26. In the last ten years they have grown and expanded to serve "a large section of the community" in Sambalthivu, Trincomalee, providing food, basic education and healthcare to its children.
"For many of the children" who are educated and fed a midday meal at the centre, "this is the only meal they get," says founder Sharadha de Saram. "They are really below the poverty line."
De Saram attributes the immense success of the programme to the local partnerships the charity has been able to build, without which she feels they would not be able to sustain operations.
Working in collaboration with their neighbours allows The Sunshine Charity to offer holistic support to the children they serve.
"It is truly a blessing when renowned artistes such as Rudresh agree to play and sing for charity and truly do this for charitable reasons," de Saram pointed out. This allows the organisation to channel full proceeds from these jazz evenings and other such fundraisers directly towards food, school supplies and healthcare for the children.