More Lankan flowers in bloom
View(s):

"What's that flower?" is a question most of us find ourselves asking with annoying regularity, whether at a plant show in Colombo or on a trip to Yala or Horton Plains. And there is almost never anyone at hand to supply an answer.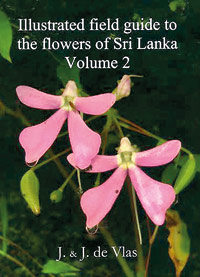 In 2008 Jacob and Johanna Vlas, a pair of Dutch flower lovers, helped flower lovers everywhere with their book, 'Illustrated field guide to the flowers of Sri Lanka.'
In it they depicted with clear colour photographs the flowers of more than 1,000 species of plants seen in Sri Lanka. Jacob, a professional biologist with a PhD from the University of Groningen, and his wife, an able photographer and organiser, have been visiting Sri Lanka regularly since 1977.
On almost every visit they would painstakingly photograph the flowers they saw and then identify them reliably, using both the formal botanic literature and the knowledge of professional botanists in Sri Lanka, who know the couple affectionately by their nicknames, Jaap and Joke.
That first volume broke new ground by being accessible to almost any lay person. The species were arranged not according to taxonomic order but by colour, with a colour-chart provided on the inside front cover so you didn't need even to know your mauve from your lavender.
The few technical terms used in the book were clearly explained, usually together with clear line-drawings.
And apart from the photographs of the flowers each species was provided with a brief but comprehensive text giving the scientific and common names (in English, Sinhala and Tamil, as relevant), and telling the reader whether the plant was, for example, a tree, herb or vine; the size of its flowers and leaves (including their shape and texture); where it grows; whether it is endemic, indigenous or introduced; and many other useful details.
Into its 304 pages was packed a goldmine of information.
Now the Vlas duo has brought out a second volume, produced exactly like the first one, but with 963 more plant species. This covers new ground, especially parts of the north and east that were inaccessible prior to 2009.
And importantly, about half the photographs this time have been contributed by Sri Lankan naturalists who have caught the "flower bug" and generously contributed their images to make the work a success.
The Vlases say that although they will continue their love affair with Sri Lanka and its flowers, they do not plan a third volume!
The 'Illustrated field guide to the flowers of Sri Lanka' is a unique book, packed with reliable information on just about any flowering plant any one of us is likely to see.
I have tested it out myself on the flowers in my garden (about which I have now learned so much!) and found that it takes only about 30 seconds to find a flower in the book and put a name to it.
It worked brilliantly on 100% of the eight species of plants that were in bloom this morning.
Dr. Vlas did not ask me to write this review: I was so excited by the book that I thought I just have to share the good news. I cannot recommend it strongly enough to anyone who has the slightest interest in nature. It is probably the best investment you'll make this year.
Book facts
Illustrated field guide to the flowers of Sri Lanka by J. & J. de Vlas; volume 2 (2004), 320 pp. Reviewed by Rohan Pethiyagoda