Athena carries away Mariam Iqbal Memorial Challenge Trophy
Wycherley International School Annual Inter-House Swimming Meet 2015
View(s):
Athena House carried away the Mariam Iqbal Memorial Challenge Trophy after winning the overall championship of Wycherley International
School's Inter-House Swimming Meet 2015. The annual swimming competition held among students of Wycherley International School took place at the Royal College Swimming Complex on February 13.
A keen competition was witnessed among the competitors of the Houses – Apollo, Pegasus, Triton and the champions Athena, in an atmosphere of friendship and camaraderie. Events were grouped into age groups for Breaststroke, Backstroke, Butterfly stroke and a medley of events. Even the juveniles of Grade 1 and 2 had events to encourage them into swimming.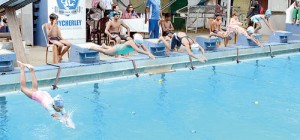 Tariq Haniff of Pegasus House won the Boys' Open championship while Shimanthi Gunawardena of Athena House and Alefiya Mohamed Ali of Apollo House shared its Girls' title. Apollo's Sulaiman Umar Farook emerged the Under-16 Boy's champion as Pegasus House duo Eemaan Reza Rafiq and Umandi Wickramaratne shared the championship for the girls.
The Under-14 Boy's title was shared by Thameem Mohamed Ali of Athena and Garuka Colombage of Triton. Amaani Mohamed Ali of Athena won the Under-14 Girls' championship. Danushkaar Balamurali of Athena and Minma Hennadige of Triton won the Under-12 Boy's and Girls' championships respectively after overshadowing other contenders easily. Apollo's Ahamed Mubeen and Triton's Minuka Hennadige shared the championship title on offer for Under-10 Boy's as Hawwa Hawra Hassan of Triton snatched the Under-10 Girls' championship without much difficulty.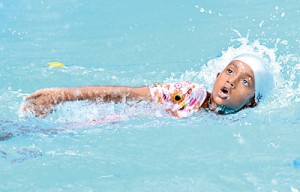 The day's proceedings took off with the hoisting of the national flag, school flag and house flags. Soon after, the opening ceremony continued with seven swimmers swimming across the length of the pool, bearing miniature school flags on diving boards and handing them over to the Principal of Wycherley International School. This was followed by four swimmers one from each House — Apollo, Athena, Pegasus and Triton – carrying their respective flags, swimming across to hand them over to the Principal. – NA
Pix by M.D. Nissanka