White by Spa Ceylon – nominated for World Spa Awards 2015
View(s):

Spa Ceylon, Sri Lanka's well-known spa lifestyle brand, has been nominated for the World Luxury Spa Awards 2015, for Service Excellence, with the nomination of White By Spa Ceylon.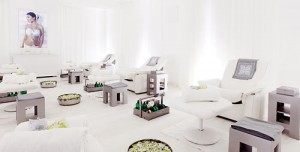 The World Luxury Spa Awards promote official spa participants amongst 141 countries for a period of one year in order to create maximum awareness. "We have been nominated to receive an Award in the Luxury Ayurveda Spa Category for Service Excellence and we are indeed gratified that once again Spa Ceylon has put Sri Lanka on the international map," said Managing Director Spa Ceylon, Shiwantha Dias.
Backed by substantial marketing and promotional campaigns, The World Luxury Spa Awards promotes its participants on a global scale by means of an online spa profile hosted by the World Luxury Hotel Awards website, featuring in the Ultimate Spa Guide and media coverage, as well as networking opportunities with their established sponsors and partners. The ultimate goal of these awards is to raise service standards within the Luxury Spa industry and to create awareness in the global market.
"To provide luxury spas with well-deserved recognition based upon votes from guests, provide the possibility of a fresh stream of spa customers, providing spas with extra credibility as well as giving staff the recognition they deserve thus improving staff morale is the aim of these awards," said Ms Marinique de Wet, Director of World Luxury Spa Awards.
"Spa Ceylon's clients could vote online (http://www.luxuryhotelawards.com/node/add/vote-spa/220009). Votes will be based on service. No other areas will be taken into consideration other than excellent service delivery," said Shalin Balasuriya, Director and co-founder.
Situated in Colombo Seven's fashionable Ward Place, White by Spa Ceylon accommodates up to 24 guests at a given time, with luxuriously appointed body treatment rooms including three couples' suites, four single rooms, two all-white traditional Shirodhara therapy rooms, a four-seat mani-pedi lounge and a
Spa Ceylon signature boutiques and spas now operate in more than 25 locations across 10 countries in Europe, South Asia & across South East Asia. In 2015, Spa Ceylon plans to further expand with more than 30 new openings in Asia and Africa, along with expansion to Seychelles, Thailand, Vietnam, Indonesia and South Africa.