Another feather in Jayantha Chandrasiri's cap
Kala Korner by Dee Cee
View(s):
We start learning about warrior King Dutugemunu very early in school. We continue to learn and read about this hero who unified the nation in 2nd century BC, virtually throughout our life. Now renowned filmmaker Jayantha Chandrasiri presents 'Maharaja Gemunu' – a lavish cinematic creation on this great personality. It's a powerful movie running for three hours, yet absorbing and gripping.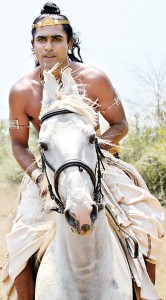 Over the years, journalist turned cinematographer Jayantha Chandrasiri has matured so much that each time he directs a film he offers something exciting. A little over a year ago, he gave us 'Samanala Sandwaniya' (Butterfly Symphony), a classic. And now, a totally different epic movie.
'Maharaja Gemunu' is based on Chandrasiri's own book which he wrote after extensive research. The film thus goes beyond what we have read and learnt about Dutugemunu. The edict found in the jungle predicting the emergence of a Sinhala prince named Gamini Abhaya dating back to the days of King Devanampiyatissa, for example, has not been highlighted in most texts, at least I cannot remember it in the ones I have read. Reading it makes Elara and his chief minister plot to prevent such a happening.
Elara (played by Jackson Anthony giving yet another of his characteristic performances) is presented more as an ambitious and ruthless ruler, rather than the just monarch that we have heard of. His troops are merciless and on his orders massacre innocent people. At the same time, Elara's humane qualities are highlighted in his relationship with the family. He enjoys the serene music his daughter plays. He is naturally upset when she tells him that the song she sings is about the handsome young man Gemunu.
Up and coming actor Uddika Premaratne, who impressed the audiences with an extremely polished performance in 'Samanala Sandwaniya', is superb as Gemunu. He plays a somewhat subdued, restrained role – not one but several – as the gritty prince, disguised prince in the village mingling perfectly with the raw lads, romantic young man and the determined conqueror. Uddika has a bright future and we are bound to see more of him on screen in the coming years.
Veterans Sriyantha Mendis (King Kavantissa), Kusum Renu (ViharaMaha Devi), Yasodha Wimaladharma (Elara's queen) and Buddhi Wittanachchi (Buddhist monk) excel, playing their roles convincingly. The many youngsters and newcomers show their capabilities under the clever direction of Jayantha Chandrasiri.
Ruwan de Costa's cinematography, Ravi Guruge's editing, Nadeeka Guruge's music direction and Rohan Samaradiwakara's art direction, among many others combine to make 'Maharaja Gemunu' a fine production.
A fine team effort – a film well worth seeing.