Tea and cheese: The perfect pairing
By VIdya Balachander
View(s):
It was the great American food writer MFK Fisher who famously said, "Wine and cheese are ageless companions, like aspirin and aches…or good people and noble ventures." In this ultimate marriage of indulgences, the cheese is believed to bring out the best qualities of the wine – and vice versa. But to Dutch cheese aficionado Betty Koster, this time-tested combination seemed like too much of a good thing.
Always eager to take on a cheese-related challenge, Koster, the owner of L'Amuse, a renowned cheese shop in the Netherlands, began to pair it with an unlikely brew – tea. In the eight years since, she has become something of an authority on the subject, introducing audiences around the world to it. In Sri Lanka recently to conduct a training session for the Dilmah School of Tea, Koster also initiated a select audience of journalists, bloggers and chefs to the relatively novel pleasures of tea and cheese.
From the 450, mostly European, cheeses in L'Amuse's repertoire, Koster chose six, equally divided between goat's milk cheeses and those with a white rind (or crust). The selection included Brillat-Savarin, an indulgent, triple-cream cheese of French origin; Lady's Blue, a raw milk blue goat's cheese from Holland; Bastiaansen Blauwe, a creamy, blue-veined cheese also of Dutch origin and Wilde Weide, an organic, raw milk Gouda that is exclusively manufactured on a small farm in southern Holland, among others.
While the goat cheeses were paired with Dilmah's green tea with jasmine flowers, the unctuous white rind cheeses were coupled with the more robust Brilliant Breakfast tea. Eager to treat tea with the same care (and ceremony) that is accorded to wine, Koster presented them in wine glasses at a temperature between 70 and 80 degrees Celsius. "You sip the tea to clean the palate, and then take a bite of the cheese," she explained.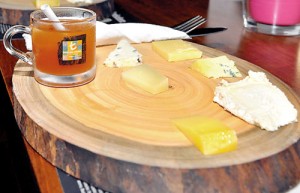 Drawing on the ancient European tradition of the cheese course that marks a transition between dinner and dessert, Koster's session demonstrated that matching tea with cheese isn't just the latest fad to sweep the food world – it is a pairing steeped in common sense. When brewed correctly and served at the right temperature, a good brew cuts through the creaminess of cheese, while its own flavours are heightened in the process. For instance, the strong and tannic Brilliant Breakfast tea provided a welcome respite from the fattiness of the Brillat-Savarin, while the delicate, grassy, herbaceous notes of the green tea with jasmine paired perfectly with the mild sweetness of the Wilde Weide, which was the hit of the evening in Koster's opinion. "That pairing…was an eye opener on what tea can do to cheese or the other way around," she said. "It feels like they were meant to be together."
Over the years, Koster has also experimented with other brews, including wine, beer and coffee. While tea is every bit as complex and nuanced as wine, Koster says coffee is too assertive, leaving little room for interpretation. "It's simply too harsh to pair with cheese," she says.However, she hopes to consolidate her expertise on the subject of tea into a book in the not-too-distant future.
Having been initiated into the world of cheese as a young girl helping out at her grandmother's cheese shop, 53-year-old Koster's eyes light up when she speaks of her all-consuming passion. "It must have been in my blood," she says. After having worked in a wholesale cheese business for a few years, she decided to branch out on her own at the age of 28. Since then, she has been an affineur, which means that while she doesn't make any cheese, she procures wheels from around the world and ages them until they mature. It is a journey that seems to follow a familiar trajectory."We get them as babies and take care of them until they are grown up," she says, with almost maternal affection."Then they leave."