Letters
View(s):

Remembering our last King

This March marks the 200th anniversary of the darkest day in our island's history. King Sri Wikrama Rajasinha, the last king of the millennia old Sinhala kingdom, was  deposed by a cabal of  his treacherous nobles on a day such as this.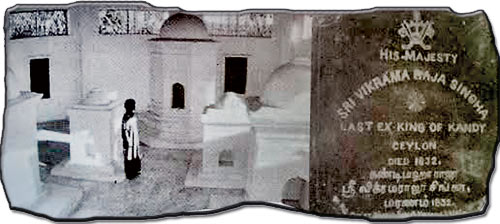 I will not repeat the description of the ghastly indignities these traitors heaped on their king when they found him in his refuge. The triumphant British, however, treated him with courtesy. The king and his entourage were housed in Mutwal's Whist Bungalow  from where he was driven in a carriage to the ship carrying him to exile, along streets lined with saddened  crowds. It is recorded that when this ship reached Madras, large crowds waded into the sea to pay their respects to the last "Tamil" king they would ever see.
Sri Wikrama Rajasinha died in exile, apparently forgotten by his former subjects. However the British paid him, and his entourage, pensions for many years. They also seem to have given him his last mounted escort on his last journey. I have been able to get a picture  [below] of the tombstone marking Sri Wikrama Rajasinha's grave – a sadly neglected monument unknown to most of  us in Sri Lanka.
Tissa Devendra
Via email
Is it advisable to prune powers of the  Executive President before elections?
The country wanted a change from the autocratic rule of President Mahinda Rajapaksa and amidst all obstacles Maithripala Sirisena was elected as the President. In spite of the change, MR or the SLFP received a substantial amount of votes, which has prompted many to believe that the SLFP will be the party with the largest number of seats at the next General Election. This will be particularly so if the political parties in MS's alliance with the swan symbol, contest as separate parties.
It is not yet known as to who will lead the SLFP, but there are many interested parties who are trying to get MR as the leader. It is reported that some of them have even sent bus loads to Medamulana to cry and to plead with MR not to give up politics.
Thus there is a strong possibility that MR will stage a comeback as the Prime Minister. This will be at a time when the Executive Presidency is abolished or its powers pruned! Thus we will have MS as President without any powers and MR as Prime Minister with all executive powers! Knowing MR very well he will take revenge and there will be chaos in the country. Surely more than 6 million people who voted for a Yahapalanaya do not want this to happen!
D.D.S.Jayawardena
Colombo 5
Time to probe activities of Bodhu Bala Sena too
Every day we hear of various commissions being appointed to inquire into acts of corruption/wrongdoing by the previous regime. How come no commission has been appointed to inquire into the systematic harassment /interference of the Bodhu Bala Sena against Christian and Muslim places of worship? Does not good governance include equal treatment of the minorities? The silence here is deafening!! A case of 'selective amnesia'?
A.J. Pereira
Colombo 5
We the senior citizens are in a worse plight than before
In spite of pushing our full might to usher in the Maithree Yugaya (MY), it is regrettable that no effort has been taken to grant any tangible relief to senior citizens of the country. We had great hope in the new budget but now we are disappointed.
For example, take the case of state bank interest proposed on our fixed deposits which is our EPF money, our sole source of sustenance.
MR's budget (of November 2014) offered an interest rate of 12% on Rs.2,500,000/- giving us a monthly income close to Rs. 25,000.
MS's budget (of January 2015) has offered an interest rate of 15% on Rs.1,000,000/- giving us a monthly income only close to Rs. 12,500.
"Gahen vetichcha minihata gona enna wage ne ?"
We who have been working in the semi-public and private sector have to depend on the interest earned from the EPF funds deposited in the bank. With the spiralling cost of living and medication it is impossible to make ends meet.
It appears that the youthful bureaucrats /politicians who prepare budgets are more concerned with balancing them than taking care of all sectors of the citizen.
We appeal to the President to take note of our plight and grant us redress.
Citizen Perera
Via email
J'Pura University's external English course: Taking intelligent students for a ride
The country's intellectual capacity depends on the availability of a functioning University education system that provides quality education. This is even more important when the subject matter concerned is English, as it is the second language in Sri Lanka and the common language internationally.
I am an English teacher who applied for the BA in English (external degree course) of the University of Sri Jayawardenepura in 2007 and I am in my 3rd year. The University has been dragging the degree for over seven years. I am still waiting for the results of the exam I sat for in March 2014. This is in stark contrast to the modus operandi of private institutions such as the OUSL and other educational institutions which are punctual in this respect.
The University charges an exorbitant fee but does not provide a commensurate service; they do not provide any resource material or conduct lectures or seminars. Exams are postponed on a regular basis sometimes over a year. Results are also sometimes delayed for over a year such as this year depriving many graduates an opportunity to apply for the post graduate courses which were advertised with the closing date of December 31, 2014.
Most candidates are English teachers. However an analysis of the results would show a failure rate of over 75%. This is mainly because the University does not provide proper course guidance. Therefore it is not surprising that many opt to spend exorbitant amounts of money and enrol in the recently established educational institutions where a student can obtain a qualification within a period of three years. It is best that the local Universities call off all their external courses without misleading innocent students.Given the nature of the course one would expect more professionalism from one of Sri Lanka's premier educational institutions. Isn't it time that the authorities concerned took decisions regarding this matter!
A disheartened student
Via email
Why can't we Lankans speak better English?
The photo (right) is doing the rounds on Facebook, and the moment I saw it I wanted to 'bawl' for my country, and its English. Here we are,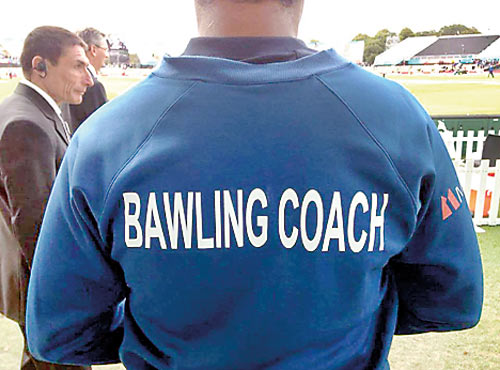 represented on the world stage, at a game that we have become world champions of, and adding to that one of our national coaches is supposed to have worn a T shirt that has been printed by one of the biggest apparel companies. Am I to assume that the same quality checks which discard clothing if a label was wrong by one letter, if the elastic was stretched on one undergarment, completely missed one of the most important clothing items they will print in their professional career?
I've always wondered why the younger generation of Sri Lankans, most of them at least, can't pronounce proper English. I mean it's not that difficult. If they can imitate all other aspects of western culture, at the very least you'd think they can pick up on a little pronunciation. They do listen to music and radio etc on those headphones they wear while on public transport every day, after all.
But still, ever so often you get these basic mispronunciations which make my skin crawl.
The P and F mixup:
I can't understand how this happens. Maybe it's because the Sinhalese language doesn't have an F in it. But for what it's worth, it does have a P! Despite this you hear so many people saying "fineafflefafaw fudding" and "parmacy" and going for a swim in the 'fool'. I was once asked by a Manager of a 5 star hotel whether I wanted a 'Porto-Coffee' with my receipt. I said yes! With cream and sugar please. I understood his confusion when I was later given a photocopy of said document.
The "O" and the "Awe" replacement:
This is equally common,and is also what made me voice my views on this topic. How often do you hear, and sometimes on media channels, presenters saying "daunt" for don't and "want" for "won't"? and of course, "I'm sori." The switch is near total, because the individuals who make this mistake apply it with 100% accuracy each time. It's horpless!
Mistakes are made to help us learn what is right and wrong. Without making them we would never know, would we? What I see here, however is gross errors like this not being nipped at their onset, and filtering down into mainstream media, further perpetuating it. The younger generations who follow such media then begin to think that's the norm, and end up not knowing right from wrong.
We pride ourselves in speaking unaccented English. Let's at least make an effort to speak proper unaccented English. The little things, I feel, matter the most.
Dr. Suneth Rajawasan
Mount Lavinia
President Sirisena, act fast and do away with family appointments
The following was printed in a newspaper recently:
"This week President Maithripala Sirisena's son-in-law Thilina Suranjith was appointed Public Relations Officer to the Ministry of Defence, while Justice Minister Wijeyadasa Rajapakshe's son, Rakhitha Rajapakse was made Media Secretary to the same Ministry."
President Sirisena who last month won the election on a platform of good governance free of corruption and nepotism appointed his own brother Chairman - Sri Lanka Telecom. for which he was roundly criticised.
These three appointments give the lie to good governance and 'no nepotism' and 'no corruption'.
The people voted in numbers of 6.25 million to do away with these, and to chase away Mahinda Rajapakse for practices such as these. One of the main planks of the election campaign of President Sirisena were these issues. Now he has gone back on this.
However much he rationalises these appointments he should not be doing this.
Over 6.25 million people gave their vote to change the system and he solemnly said he would.
In order to recover his credibility, he must now cancel these three appointments and appoint three others in their place.
Otherwise, the government will go the way Narenda Modi's government did just three days ago when they were soundly defeated in the New Delhi elections. This is a betrayal of the voters who will bide their time and oust Sirisena and his Government as well to the detriment of the people.
Act Fast.
S. Waduge
Nugegoda