Vehicle stalled on middle of railway track, occupants tried to get out: Eye witness
By Leon Berenger
Batuwatte level crossing tragedy
View(s):
It was a horrendous crash that left four people of the same family dead and two others injured after a speeding express train was involved in a
collision with a double cab at an unprotected railway crossing earlier this week, once again prompting a public outcry for safety measures to be implemented at such locations.
The incident took place on Independence Day (February 4) at Batuwatte some two kilometres north of the main Ragama Junction.
The vehicle packed to capacity with members of the same family, was proceding from their residence in Katuwapitiya, Negombo to Ragama where they intended to visit a family friend suffering from terminal cancer, when the accident took place.
The dead were identified as Dharmasiri Rajakulatunga, aged 62, a businessman, his daughter Anjala Probodji (21), Harsha Tharindu (19) and Lahiru Salinda (14).
The mother, Thusharika Silva aged 35 who suffered limited external injuries in the accident was treated at the Ramaga Teaching Hospital and later discharged while her youngest sibling, 12-year-old Tharashi Madushani
continues to be treated at a private hospital.
Eyewitnesses to the tragedy told the Sunday Times that the mid-day calm was suddenly shattered with the repeated sound of a train horn apparently desperately trying to sound a warning and the next moment there was a thunderous bang as the collision took place.
"Moments before the crash I noticed a vehicle stuck in the middle of the crossing right in the path of the oncoming express train that was proceeding to Vavuniya. From where I was positioned I saw the occupants of the vehicle were making desperate efforts to get out of it before the train hit them head-on leaving very little chance of survival for most of them", said Rohan Kumara who has a shop bordering the rail tracks.
"This particular spot that is usually busy was rather quiet on this day since it was a public holiday and the movement of vehicles and pedestrians was low. Moments after the impact, I along with a three-wheeler driver, rushed to the scene and made every effort to rescue those who had been hit by the train but the victims had been flung from their vehicle and were dead on the spot.
We were able to remove the injured to the Ragama Hospital and the little girl who was badly hurt just kept crying out 'mame mame mokada une'?
(uncle, uncle what happened?) and were assured that everything would be alright and then she passed out, Kumara who has carried out similar feats on many previous occasions said.
"However in this case I am happy to note that the child is recovering and that the mother has been discharged from hospital," he said.
He added that it was only seven days prior to this accident that a neighbour, W. Sunil, was hit at the same spot by a train and killed. "Even on this occasion I transported the victim to the Ragama Hospital but unfortunately he died several hours later," he said.
His almsgiving was incidentally held on the day this family was hit by the Rajarata Rajini Express that had earlier in the day left the Matara Railway Station.
Many people in the area are convinced that this particular level crossing at Batuwatte has an eerie history with elders claiming that people are periodically hit and killed by trains at this crossing.
Some residents say that over the past few years as many has 25 people or even more may have died at this crossing and they have blamed the relevant authorities for failing to take adequate measures to prevent the tragedies.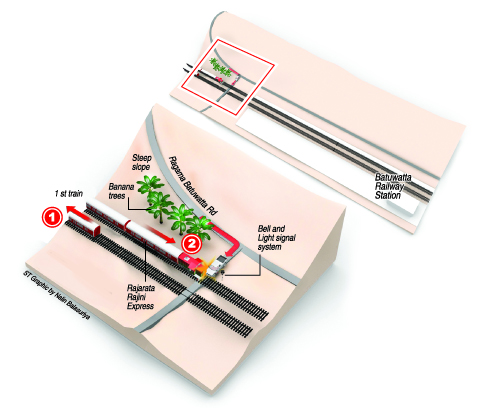 We have on more than one occasion raised the issue with the authorities and even held street protests towards this end but there has been a deafening silence on their part and this is not an encouraging development. But a day after the February 4 incident there are hurried attempts to do something with building materials being moved into the area to erect some sort of barrier……a bit too little and a bit too late", they said.
Then they are others who claim that illegal construction of shanties along with the planting of trees bordering the railway line obscures the view of approaching trains posing a major threat to motorists and that this may even have been the case in the February 4 incident.
"These shanty dwellers are illegal squatters who have encroached on railway property and therefore they should be moved out at the very earliest as a starting point in making this place safer for road users" said K.D. Wijeysiri who operates a three-wheeler near the spot.
He added that the rail tracks are practically concealed at both ends due to these illegal constructions and the the trees that have been planted in large numbers by the squatters.
Another issue at Batuwatte is that the road at one end is a steep slope approaching the railway crossing making it difficult for motorists to apply their brakes, if needed in a case of emergency, he said.
Furthermore, the road on either side that leads to the Batuwatte level crossing lacks the road signs that should indicate a level crossing is ahead and the dangers that are associated with it, he added.
Earlier victim's wife worries about educating her 3 children

The widow of W. Sunil who was killed on the same spot by a moving train seven days earlier is worried how she could get the money she would need to educate her three children – two daughters and a son.

While two children have already entered the university, the youngest is at the Advance Level stage. She needs a lot of money to set aside for their education apart from other expenses.

"My husband was the sole bread winner and now things are going to be difficult in the future" she said.

Some of my relatives and friends have stepped in to help for the moment but this cannot be expected to last for ever," the widow Ramya Perera said.

Her husband was fatally hit by the train when he had gone shortly after dusk to purchase a telephone reload card.

Railway cannot protect all crossings without State aid  

The authorities for their part said that the motorists must also share some part of the blame because snap decisions such as was the case in Batuwatte could lead to disastrous consequences.

It is learnt that a bell and a light operate at each end of the level crossing warning of approaching trains.

Wijeya Samarasinghe, Director Planning of Sri Lanka Railways told the Sunday Times that there have been many instances where motorists had even breached safety regulations by sneaking through the gap in the gate resulting in tragedies.

He however conceded that there are some 600 unprotected level crossings dotted throughout most parts of the country and if safety measures are to be set up, the railway will require a huge sum of money that is currently not available.

He added that other regional bodies such as the local councils could also assist towards this end since they too collect public money some of which could be used for erecting gates and similar barriers.

"But at the moment this is not taking place and the entire responsibility is placed on the Railways Department which is cash-strapped and will need a bail out from the State coffers," he said.

He concluded saying that an inquiry will be held into the Batuwatte tragedy and measures will be effected to prevent a similar incident.

Gate or barrier could have averted accident: Grieving mother

'Kochiya enawa, kochiya enawa' ('the train is coming, the train is coming' is all that the grieving wife and mother Thusharika Silva could murmur as she mourns the dead of her household at Katuwapitiya in Negombo.

She was awaiting the arrival of the bodies of her loved ones that were expected after midnight on Friday in keeping with Buddhist beliefs and customs while being comforted by relatives and friends.

However she was able to add that this tragedy could have been averted if there was a protective gate or barrier, but sadly this was not the case.