Murder in the zoo, a classic 'locked-door' mystery
By Kasun Warakapitiya
View(s):
The Dehiwela zoo is looking for replacements for 13 mouse deer reported dead last week as mystery remains over how the animals met their sad end.
Zoo Director Anura de Silva has asked the wildlife department to find replacements for the animals.
Mr. de Silva said that a zoo-keeper had found all 13 mouse deer dead; two of them with bite marks visible as puncture wounds.
He believes the animals had been attacked by dogs during the night but is baffled as to how this could have happened.
Investigations are taking place while the zoo vets examine the bodies.
Although the mouse deer had been penned in a low, three-foot-high enclosure due to their small size the chain-link fence had been made higher with an extension of mesh curving over and inwards, he said.
Even if a dog had jumped into the cage it would not have been able to escape over the fence, and there had been no breach in the fence, Mr de Silva
said.
A wildlife expert said the mouse deer was a timid animal and could die of fright if an animal was chasing it down.
Mr. de Silva admitted a dog would have been able to enter the zoo because the main gates had been left open to let workers in and out for the renovation work currently in progress.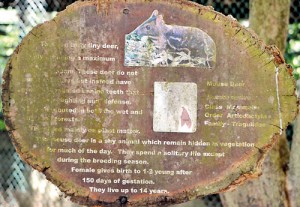 There are two species of mouse deer in Sri Lanka, according to environmentalist Pubudu Weeraratna, who is researching the animals: Moschiola meminna, also called the Sri Lankan spotted chevrotain, and Moschiola kaythygre, the yellow-striped chevrotain.
The spotted mouse deer is about 55-60cm from nose to tail and is dull brown in colour with three to four dotted white stripes running longitudinally along its flank.
The yellow-striped chevrotain is 43–51cm with a yellowish-brown coat with two light yellow stripes separated by a row of light yellow spots on its flanks plus another below its tail. Tusk-like upper canines are visible in the males.