Roundworm kills Kalpitiya's kilo-pera as planters watch helplessly
Pix and text by Hiran Priyankara Jayasinghe
View(s):
Planters of guava (the larger variety called kilo-pera) in the Kalpitiya peninsula complain that a roundworm disease has destroyed nearly 750
acres of plantation.
In Kalpitiya, over 500 planters own plantations approximately 1,000 acres in extent, and until recently, the plantations were a lucrative source of income for families in Pallivasalthurai, Thalawila, Eththale, Alankuda, Poolachchanai, Paniadiya, Narakkalliya and Mampuriya.
But since the roundworm disease began to spread two-and-a-half-years ago, the planters have fallen on hard times. Once this disease began to spread at an alarming rate, the planters began to destroy all the affected plants. However, the area covered by the affected trees cannot be re-cultivated until after a lapse of 10 years.
A 'kilo-pera' planter from Alankuda, J. Rohana Rodrigo, said that the Kalpitiya peninsula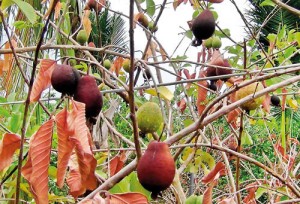 has a climate preeminently suited to 'kilo-pera'. Consequently, those days, planters had no qualms of spending as much as Rs 2 million each season, because the returns were quite substantial.
"But in the recent couple of years, the plantations began to fall prey to diseases. The most harmful has been the roundworm disease. The Department of Agriculture has not provided a cure for this yet. This disease is dangerous because it spreads rapidly, and once we discover it, it is too late for any action. The only solution then is to destroy the plants."
He added that, "It was in our area that the largest harvest of kilo-pera in Sri Lanka was produced. So we request the Agriculture officials to provide us with a solution for this."
Deputy Director, Agriculture, Puttalam, S.D.S.K. Semasinghe, when contacted said that the roundworm disease cannot be controlled "100 per cent." He said no cure has so far been found. "However, that does not mean we have given up hope," he said.