Importing Bollywood stars and campaigning in Arabian deserts: How barren can one get!
By Viruddha Pakshikaya
View(s):
I am sure my rival, Raja Pakshikaya will respond to my comments last week but I have also been asked to contribute this Sunday as this is the last week of the election campaign. And what a week it has been, with victory for Maithripala Sirisena becoming more certain with every passing day.
Raja Pakshikaya must know that most of our politicians know which way the electoral winds are blowing. They are good weather cocks – and that is why many of them are now jettisoning the sinking government and joining the next ship that will set sail on January 8, which will take us on a journey of hope, justice and fair play.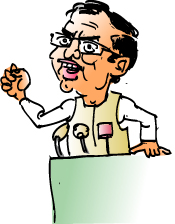 As I predicted in these columns last week, the Sri Lanka Muslim Congress and the Deputy Minister Faiszer Mustapha joined hands with 'Maithri' this week. What I did not predict was the TNA also joining him, but that was a foregone conclusion given the shabby treatment by the Rajapaksa regime of the minorities in this country. At the time of writing deputy minister, Nandimithra Ekanayake has also joined for a 'Maithri paalanaya'.
Surely, Raja Pakshikaya, if yours was a government that was oozing with confidence and assured of victory, all these men and women wouldn't be abandoning their posts and privileges to support the Opposition? It is difficult for you to admit, I'm sure, but the days of the Rajapaksas are numbered.
Desperate situations call for desperate measures. So, what does the Rajapaksa campaign do? They import Bollywood stars and their local co-stars to campaign for the President. Salman Khan arrives and calls Rajapaksa an 'amazing man' and says the country has developed under him because Khan was able to get from the airport to his hotel in 20 minutes (with VIP escort, no doubt). He is a good actor, this Khan chap. You can your Salman – we have our Ranjan!
When we pointed out that getting Khan and his female side-kick down from Mumbai cost millions, the President says they were here only to distribute spectacles for charity and not for political purposes. You, Raja Pakshikaya might need a pair yourself if you can't see the tidal wave of support for the Opposition. Donate one to your candidate also for good measure.
There comes a time, Raja Pakshikaya, when it is time to go and when it is that time that whatever you do goes wrong. So it was with the Salman Khan episode. At the same time multi-millionaire Khan was being given right royal red carpet treatment in Colombo, some of your UPFA goons decided to attack our own poor artistes in Kumbukgatey in the Wayamba province. If you think Mahinda Rajapaksa won a few dozen votes by posing with Salman Khan, he would have lost so many more after the incident at Kumbukgatey. It was good he beat a hasty retreat soon after his whistle-stop, spectacle !
And why is the Rajapaksa campaign obsessed with importing people from overseas, to bolster their campaign, Raja Pakshikaya? Is it because they can't find anyone other than the pathetic Tissa Attanayake or the double-crossing Udaya Gammanpila – who went to West Asia (Middle East) to continue his campaign? What on earth is he campaigning in the deserts of Arabia when the Rajapaksa campaign is barren here.
Another import is Kumar Gunaratnam, the leader of the Frontline Socialist Party which broke away from the JVP two years ago. He is your latest poster boy, and is going around town asking JVPers not to vote for Maithri claiming that there is a secret pact between the JVP and Maithri. Why, Raja Pakshikaya, is no one here campaigning for your candidate?
Now, even if Gunaratnam does produce such an agreement, I hope he doesn't get the same people who forged Maithri's and Ranil Wickremesinghe's signatures on Tissa Attanayake's agreement to do the dirty work for him because, like most of the work of the Rajapaksa regime, it wasn't up to the mark.
Raja Pakshikaya, this is the chap who arrived in Sri Lanka clandestinely two years ago, disappeared, then claimed he was abducted and tortured by your own government and was deported despite having charges pending against him-after nearly causing a diplomatic row with the only developed country still 'friendly' with us, Australia. Now, when he says what you want him to say, he is no longer a wanted man in Sri Lanka-need we say more about the collapse of law and order and where kissing goes by favour?I can only echo the thoughts of Kamalesh Sharma, the Secretary General of the Commonwealth, who is calling for a 'level playing field' at the elections. Sharma, as we know, bent over backwards to allow your candidate to host the Commonwealth Summit in Colombo much to the annoyance of Britain. Obviously he is now having his doubts about Rajapaksa allowing a level playing field in the run up to the polls. Impudent don't you think for the Secretary General of the Commonwealth to tell the Chair in office of the Commonwealth how to play by Commonwealth's Chatham House Rules.
The tide is not turning; it has turned already. The Mahinda Rajapaksa Presidency will be history on Friday. The President can still ensure that history will be kind to him-by respecting the peoples' wishes and leaving his office, allowing the dawn of a 'Maithree' era and with it, a new Sri Lanka where every citizen is treated equally, regardless of whether they are a 'Raja Pakshikaya' or not.