Voices raised in harmony
By Tharooshie Mahahewage
View(s):
School choirs proved their mettle in acapella style once again at the 'Eve of Acapella', a choir show organized by the United Students' Circle (USC) of Royal College, Colombo. This colourful musical night was held recently at the Nawarangahala premises. The event showcased the talents of students from various schools. There were seven school choirs participating along with many individual performances as well. The event was held after a lapse of two years.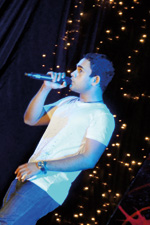 "Acapella" -Italian for 'in the manner of the church', is a type of choral singing devoid of any instrumental accompaniment.  The choir of Holy Family Convent, Colombo – one of the largest school choirs in the island with about 60 voices offered a 'pitch perfect' performance. All Island Western Music champs of 2013, St. Peter's College, stole the show with their elegant as well as perfect harmonies which were expected of the champions in their performance of 'Lean on me'.
Ladies College Colombo performed a single while Asian International School's choir, trained by Ishan de Lanerolle put on a good show as well. The Methodist College girls made an impression on stage with their performance and costumes. The host school, Royal College, being one of the oldest choirs in the island, also made a remarkable performance.
Among the other performers were, internationally acclaimed beat boxer Julius Mitchell, Vinushka Perera from ANC who was the former Visakha College choir leader, Ryan de Mel accompanied by Joel Fernando, Milindu and Company, TNL onstage finalist Shuaib Jabbar, Dakshitha and Royal College's very own star Beat boxer 16 year old Dilesh Narendra who carried out a stunning performance on stage.
The chief guest at the event was Sri Lankan born International song producer, Rukshan Perera. A former student of Royal College, he entered the music industry with the group Super Golden Chimes headed by Clarence Wijewardene.