Gunday Refugees turn to gun couriers
View(s):

'Gunday', Bollywood romantic thriller revolving around two boys who became refugees and later turned to gun couriers is now being screened at Superior, Majestic Cinenplex, Colombo.  Based in Calcutta during its most unsettled times in the '70's, the film deals with the inseparable life of Bikram and Bala, the film is directed by Ali Abbas Zafar and produced by Aditya Chopra. 'Gunday' stars Ranveer Singh and Arjun Kapoor, as Bikram and Bala, along with Priyanka Chopra and Irfan Khan, in lead roles.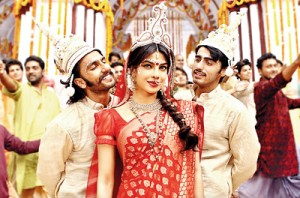 When Bikram and Bala ran to save their lives for the first time, they were just 12-year-old boys, and the world called them 'refugees'. The war of 1971 gave birth to a new country – Bangladesh and also to two young orphans – Bikram and Bala. They witnessed the war and its consequences, where the world tried to trample over them. Fighting for survival, they clung to each other and escaped to Calcutta.
Before they knew the world, they knew each other. Such was their bond, such was their friendship. Each time they sought new beginnings, they would rise and the world would crush them down. So, they fought again and again, together they were unbeatable and unstoppable.In the years that passed, Bikram and Bala, became Calcutta's most loved, celebrated, fearless and powerful gunday! One fine day, Nandita – the most beautiful cabaret dancer walked into their lives tuning their world into a magical and colourful one and they fell head over heels in love with her.
Then entered ACP Satyajeet Sarkar, the right for every wrong, a law for every outlaw and a counter force for Bikram and Bala. What follows from here is the most sensational, most thrilling, most dramatic story ever told!