'Saptha': A collective exhibition of seven artists
View(s):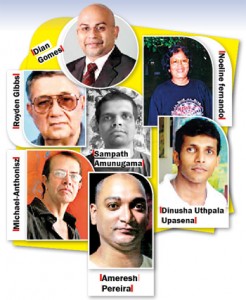 'Saptha', an art exhibition bringing together seven remarkably talented and renowned Sri Lankan Artists will be held at Villa 82, at Stratford Avenue. The exhibition officially opens on the 21st of February at 6:30 pm and will be opened to the public from the 22nd – 25th February from 10.00 am to 7.00 pm.
'Villa 82' was formerly known as the Wimalasurendra Walauwa, named after its first proprietor, the famous engineer D. J. Wimalasurendra, the 'Father of Hydropower' in Sri Lanka. The colonial villa is a significant landmark in the country's architectural circles, with the original structure built in 1957, designed by the Edward, Reid and Begg architectural firm.It has been restored and renovated into a luxury Villa.
'It is certainly a privilege to host such remarkably talented artists to showcase some of their latest and thought provoking art at Villa 82', commented Dian Gomes, current owner of the Villa. 'I believe the Villa too justifies hosting an exhibition of this calibre, given the architectural history and significance of the property. It's the perfect combination of creative genius.'
The seven artists featured in 'Saptha' are Gunadasa Wathuwalagedara, Noeline Fernando, Michael Anthonisz, Amaresh Pereira, Dinusha Uthpala Upasena, Sampath Amunugama and Royden Gibbs, all renowned for their own legacies in art. The seven artists featured in Saptha each has legacies of his/her own; Gunadasa Wathuwalagedara is a graduate from the Government College of Fine Art, and scholarship award winner of the Fulbright Scholarship by the US Government to the Art Institute in Chicago and the Pratt Institute in Brooklyn, New York. Wathu has worked as an Art Director at J. Walter Thompsons while lecturing on Graphic Design at several international universities.
Having exhibited her work in Sri Lanka and overseas, Noeline Fernando has also organized and participated in several workshops and art camps over the years. Michael Anthonisz, having exhibited both locally and internationally, has his paintings in private collections in Australia, Amsterdam, London, Paris and New York.
Artist Amaresh Pereira, an old boy of Trinity College, Kandy and presently a lecturer of the University of Peradeniya already lays claim to three solo exhibitions. Dinusha Uthpala Upasena's work has been deeply influenced by Salvador Dali, Lucian Freud and Rembrandt, developing her own individual style to create an utopian model that eliminates branded doctrines.
Sampath Amunugama, presently the art Master of St. Thomas' College Mt. Lavinia, has showcased his paintings in over five solo exhibitions, as well as countless local and international exhibitions with his work being included in many collections across Europe and Asia.
Royden Gibbs, a former student of the A.C.G.S. Amarasekera School of Art, found his passion for the creative as a child, and upon leaving school he was invited to join the advertising industry as an apprentice artist. The chief guest at the Exhibition will be Sharad Amalean, Deputy Chairman of MAS Holdings