Crack-a-Crab at the Seafood Cove
View(s):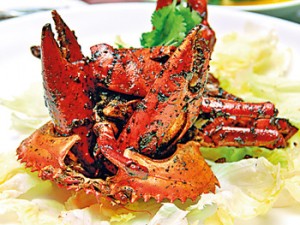 Mount Lavinia Hotel is the latest hub for sensational succulent seafood cuisine with an exclusive selection of fresh crabs with your favourite condiments and prepared to your liking. Chef Asanka, of the Seafood Cove states, 'Since the Crack a Crab promotion has always been a magnificent hit every year it is that time of the year for us to get down to cracking".
The Seafood Cove steaming with Steam Pots of ocean food with Crabs and prawns, shellfish to whet your appetite made sizzling fresh by experts surrounded by the ambience of a subtle fishing zone, is an experience never to be missed'. The only Seafood Restaurant with a sandy beach for a relaxed evening with a calypso band to crack a crab of an all you can eat crab promotion is on from the 20th to 30th March .