When The Saints go marching in……
View(s):

Popular male coral ensemble the 'Saints' will take their marching in soon with an enjoyable and entertaining selection of retro music from the 60's thru' to 80's in their own inimitable vocal styling and harmony at the Lionel Wendt Theatre (LWT).
'Thank You for the Music' is the title of Saints latest concert to be staged on 19 October at the LWT.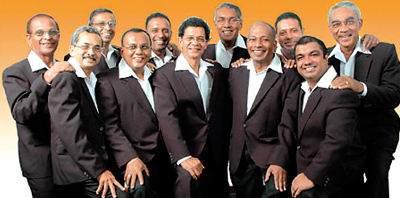 'There's a kind of Hush' 'My Broken Souvenirs' ' Lying in the arms of Mary', ' If I said you had a beautiful body' ' Spanish Eyes' ' Just wanna' dance the night away' ' Bridge o'er Troubled Water' – are just a few of the popular songs they will perform that would bring back nostalgic and pleasant memories. Displaying their versatility they have included few toe-tapping Sinhala hits plus the Nimal Mendis classic 'Master Sir' in addition to a 'Everly Brothers' sing-along session with the audience 
Side stepping a road block, when they lost the highly gifted musician, bass singer and founder member, the late Bosco Fonseka earlier this year, the Saints have now overcome this setback and put together an exciting and rousing programme of retro music as a dedication to a dear friend and mentor.
Enhanced by the addition of young blood in the form of the talented duo Chanu de Mel and Marlon Perera together with the mellow and mature voice of Mohan Mendis, the 'Saints' now look a more confident and buoyant group with a superb blend of youth and experience under the skillful direction of Suren Abeysekera and Priyanke Perera .
The 'old guard'- if one is permitted to call Rohan, Nalake, Kenny, Russell, Allan, Placi, Janith and Gladwin by that term, are now a seasoned and polished set of professional performers. The 'Saints are backed by the accomplished Dayathree Jayasuriya de Silva on piano, Revel Crake on guitar, Basil Paiva on bass and 'Junior' Prins on drums and percussion
Tickets and Box Plan will be available at the LW from 10th October. The tickets are priced at Rs 1,000/-, 700/- (reserved) and 300/- (unreserved).
comments powered by

Disqus