The First Super Star of Sri Lankan Music
Sunil Santha show- 'Lanka Lanka' Reliving founder of our own music
View(s):
'Lanka Lanka', a tribute show to remember the 98th birth anniversary of 'founder and pioneer of Sri Lankan music' Sunil Santha will be held on October 5 at 6 pm at Musaeus College Auditorium.  Sunil Santha's most favoured disciple who also possessed his own voice- Ivor Dennis and a large number of versatile singers like Victor Ratnayake, Sunil Edirisinghe, T. M. Jayaratne, Edward Jayakody, Deepika Priyadarshani and Christopher Paul and two young singers Dharshana Promod and Devmini Fernando, the granddaughter of Ivor Dennis will render their voices for more than twenty songs lined up for the show. The music for 'Lanka Lanka' is handled by Rohana Weerasinghe while Channa Wijewardena designs the choreography. Organised by Sunil Santha Samajaya, the script for the show is prepared by Pusphakara Wanniarachchi and compered by Indrasiri Suraweera.
Vijith Kumara Senaratne, secretary of Sunil Santha Samajaya said that undoubtedly the 'father of Sri Lankan music' is Sunil Santha as he strongly believed creating an original Sri Lankan music style which is completely different from North or South Indian music. He attempted to do this despite his own education and qualification in Hindustani music. "He stood for his conviction and because of this he had to make a lot of sacrifices including leaving music and singing in 1952 . This is because he objected that a audition being conuducted to categorise Sri Lankan singers by an Indian. This was despite Sunil being highly qualified from College of Hindustani Music in Lacknow from where he excelled in both 'Vadya Visharad' and vocal obtaining 'First Division', the only Sri Lankan to achieve such a feat. Both these certificates were given by principal of Marris College of Hindustani Music of Lucknow, S. N. Ratanjankar who had been invited to Sri Lanka by then authorities to conduct an audition and catogorise voices of Sri Lankan singers. 
"Ironically Sunil Santha went against his guru because he knew that Ratanajankar would have selected those who could follow Indian style of music and singing but ignore for fail those created or followed Sri Lankan style of music," he said. "In fact that particular panel should have been headed by none other than Sunil Santha himself," Mr. Senaratne said.
"However after 14 years the authorities had to admit the mistake they made as Sunil Santha was invited to head a similar panel in 1966 together with H. W. Rupasinghe and W. D. Ameradewa to test voices of singers and versatile musicians like Victor Ratnayake and Sanath Nandasiri were those who were selected from this panel,".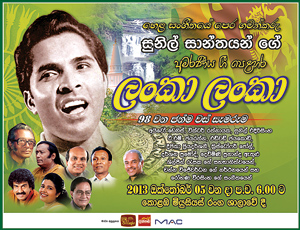 "Had the authorities understood the vision of Sunil Santha to create a Sri Lankan music in 1952 we would not have lost that 14 years and our music would have gone far ahead with the vision of Sunil Santha to create unique Sri Lankan music," he said.
"My father refused to restrict himself to one school or style of music. He thoroughly studied Hundustani, Kerala, Western, Sri Lankan traditional music like Wannam and various poetry and created a unique style of music that is suitable for Sri Lanka," Lanka Santha, Sunil Santha's second son said. "He was an ardent follower of Kumaratunga Munidasa and Hela Havula movement which was introduced to him by his own uncle, Rev. Fr. Moses Perera who was also a livewire of the movement at that time. There Sunil met Arisen Ashubudu with whome he had a long standing friendship.
Sunil Santha Samayaja is comprised of Lanka Santha, Vijith Kumara Senaratne, Dr. Ruwan Ekanayake. Tickets for 'Lanka Lanka' musical show is available at Sarasavi book shops in Borella, Nugegoda and Gampaha, Sadeepa Bookshop Borella and K and D Enterprises, Nugegoda.
comments powered by

Disqus