State honour for Noel, Father of Calypso music
View(s):

After 50 years of hard work, enduring obstacles and humiliation Noel Ranasinghe was honoured at the recently held State Music Award Ceremony.

For his 50 years of calypso music, a style which he created, a style never seen in any part of the world, a style which caught on like wild fire, a style which was used in most tourist hotels, a style which created employment for many, Noel Brian Ranainsghe has been finally recognised by the State.The veteran singer who is acclaimed as the 'King of Calypso' had to undergo many a obstacle and humiliation for the simple style of music he created with box guitar, banjo and Congo drum and identity he created with a unique attire–Batik shirt and sarongs and reed hat.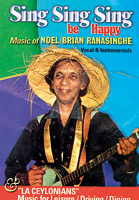 "It took a long time to recognise what I have created and I am at last pleased for recognising what I have gifted to this country," Noel said with a tone of relief. Noel was one of the 12 artistes who were recognised at the State Music Award last week.
"Sri Lanka came to be known as a nation of calypso singers- musicians – the real live style which is popular to date. So many stage shows have also kept it alive. Like Rajive Sebestians "Calypso Express" – Calypso Carnival – and Chandimal Fernando "It's all calypso" and many more," says jubilant Noel. 
Calypso music has been Noel's gift to Sri Lanka, a style with which he kept going despite many setbacks – and mudslinging etc. Noel once very nearly gave it up – but being a fighter he went up and went on to prove his class – and real values – 50 years is indeed a great feat.
"Today Sri Lanka is famous for its own style of calypso many formats, group singing, Waada Baila, Papara Bands – you name it,".  Noel's music has now become a part of Si Lankan culture and tradition and the state recognition for his contribution to country's music is a real act of appreciation for the contribution he had made.
Noel thanked all those who helped him to achieve what he had achieved and had a kind word for all his teachers at St. Thomas' College, Kotte also to R Rajamahendran, Malcom Andree and a few others.
comments powered by

Disqus