'Immoral Commercialisation invaded Cinema'
By Susitha R. Fernando
View(s):
An award winning playwright, teledrama director and filmmaker, Jayantha Chandrasiri will release his third cinematic experience 'Samanala Sandhawaniya' (Butterfly Symphony) from October 4 on EAP circuit cinemas. A musical movie revolving around a character, an highly sensitive musician who repents, regrets and suffers throug out his life for a failure to go an extra mile to return a love letter, the film is an psychological journey which stresses the importance of being sensitive in a world of full of selfishness.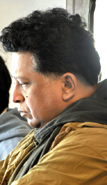 Where this director does find such a rare plots and material and plots at a time cinema is mostly stereotyped to cheap love story or historical or fictional historical tales? Jayantha, a journalist and extensive researcher says that the plot crossed his mind about a sensitive character. The sensitivity also helps him to become an extremely talented musician. 
"We live in a love-lost society. We talk so much about love and sing so much around this subject but there is hardly any love and sensitivity towards others. The entire film starts with an accident where the protagonist when he was a child finds a love letter but he could not return it to the receiver it was sent to. The guilt haunts throughout his life and all his attempts to find the person to whom the letter was addressed fails. Carrying a guilt he directs all his strength on music and becomes an excellent musician. While he searches for the owner of the letter he starts falling in love with her and finally when he comes across her he is faced with another
Asked about the bankruptcy of creation in the audio-visual medium, Jayantha says the main reason being 'immoral commercialisation' and those engaged in the industry are more concerned about the money and not about the quality of what they do. "There was this competition in the Europe, the US and even in India. But instead of this immoral rat race, they gave priority to the quality of what they did and they introduced more and more artistic qualities to their television and cinema," he says. 
"One cannot be excused or forgive for this immorality. We have a rich literature in 'Jathaka Stories' we come across almost everyday. Besides we also have a rich cinema culture with directors like Dr. Lester James Peries, Dr. Dharmasena Pathiraja and Wasantha Obeysekara and many more," he argued.
Jayantha Chandrasiri also described the challenges the filmmakers had to face with the fast changing technology. "The technology of cinema developed gradually. But with the digitalization there was huge leap forward. Today some of the companies have stopped manufacturing film developing materials like positives. So we are in a position whether we like or not we have to change our technology," he described the challenges face by Sri Lankan cinema. 
"But I think this is a good move, because whether we like or not we have to shift to the technology," he said in a positive note.
Censorship specially imposed by the ruling political powers was a hotly debated issue specially after controversy created by 'Ingilena Maluwo' or 'Flying Fish' made by young filmmaker Sanjeewa Pushpakumara. "Censorship is there not only in countries like ours but all over the world but in a different level. Even in an extremely democratic countries we find censorship," says Mr. Chandrasiri.
"But censorship in art is extremely bad. It is said that when a part of a work of art is removed there would be bleeding,". "Having said that I also believe an artiste is not a lunatic or a fool. An artiste has a social responsibility and an artistic discipline," "The freedom that enjoys by a lunatic can never be enjoyed by an artiste," Jayantha said.
Notations of 'Samanala Sandhawaniya'
Having directed 'Agnidahaya' (Fie and Water) in 2002 and Guerilla Marketing in 2005 Jayantha's newest film stars Yashoda Wimaladharma, Uddika Premarathne, Pubudu Chathuranghe, Sooryaloka Dayaruwan, Damitha Aberathna, Wilson Gunaratna, Chathurika Peris, Buddhadasa Vithanarachchi, Roger Seneviratna and Rebbeca Nirmali. 
Produced by Ruwan Jayansinghe and Palitha Gunawardhana, the script of 'Samanala Sandhawaniya' is by Jayantha and camera by Ruwan Costa, music Darshana Ruwan Disanayaka, editor Ravindra Guruge and make up by Vasantha Vittachchi.
comments powered by

Disqus