Paper takes flight
By Smriti Daniel
We introduce a new column which will feature artists who've been creating a buzz on the web with their work and this week we speak to Diana Beltran Herrera on her hyper-realistic' bird sculptures
View(s):
Diana Beltran Herrera's Flickr stream is filled with pictures of birds. They're gorgeously coloured; each boasting their own distinct markings, their own exquisitely detailed feathers. Some are from Colombia (where the artist used to live), others from America (where she was invited to exhibit) and still others from England (where she is studying now). Some are perched on branches, others are caught mid-flight. They look back at you, beady eyes unwavering or go about their business, unconcerned by your attention. However, whatever they're doing, wherever they are, Diana's birds all have one thing in common. They're made of paper.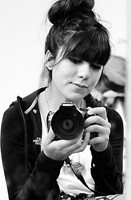 Diana first started making her life-sized, 'hyper-realistic' sculptures in Bogotá, Colombia's crowded capital city. "In my city there are lots of birds trying to survive in the chaos, you hardly hear them because the traffic doesn't let you, you hardly see them because there is too much distraction in daily life," Diana says. When she really started looking around her, Diana began to notice more and more the way the natural world found its way into urban spaces.
Colombia boasts an incredibly diverse animal population and is a popular migration destination. Come September, hundreds of birds will congregate there. For Diana who both looks for her subject's in the wild and recreates them from images. To create her sculptures, Diana settled on paper because it was widely available and cheap, she didn't need to rely on an industrial process or require expensive tools. She drew on her previous experiences as a designer to work with colour and modularity. She began by sticking the feathers on a skeleton. The detail in these remains truly extraordinary – ranging as they do from the thick, heavy tail feathers to the delicate wisps and stubby odds and ends that make up the coat of your average bird. Her colour palette is so wonderfully accurate, the gradations so convincing, that they could easily be mistaken for the real thing. 
Still some birds are more challenging to sculpt than others – woodpeckers for instance have lovely patterns that can take days to replicate in the studio. Size also counts – a cardinal could take six sheets of paper and five days of labour but the much larger eagle or crane could take 10 to 15 sheets of paper and up to two weeks of time. Luckily, Diana is willing to go the distance. She works closely with experts and groups of bird watchers to ensure her sculptures are as accurate as they are lovely.
Now in Bristol, Diana is far from home. She's discovering the birds here are on the shy side. There have been the pigeons and robins, seagulls and herons. They're not as colourful as their Colombian counterparts, but are still surprising enough to inspire her. The bird that Diana is really keeping an eye open for though is a kingfisher, which have so far proved to be difficult to spot in the wild.
Still, it's absence doesn't detract from her paper aviary which now includes over a 100 species of birds from all around the world – from Red Bellied Woodpeckers, European Bee Eaters and Cardinals to Little Blue Herons and Flamingos, with plenty of Robins, Warblers and Blue Jays thrown in for good measure. She hopes eventually that she can create an entire landscape and populate it with birds and animals of every kind.
Diana makes her job harder by being determined to give her creations the same sense of movement the animals would have out in the wild. She believes this contributes immeasurably to how convincing they are.
"When I represent this nature my ideal is to show it in the most realistic way, no matter that my paper is not alive, there is something outside that is, that it has a place and it should be respected. We as humans respect things that are beautiful. Beauty is marvellous to us, I thought, if I show it in its most impressive way, I might get some people to respect them in real life."
Find Diana online at: www.dianabeltranherrera.com
comments powered by

Disqus