Biryani adds spice to those good ole hot dogs
By Tharooshie Mahahewage, Pix by Susantha Liyanawatte
All kinds of everything at a good price; that's what the latest restaurant in Colombo, The Elephant Grill offers
View(s):
Looking for a clean and affordable place to eat around Colombo where you don't have to pay five-star prices? For everyone who wishes to have a good meal for a reasonable price there's a new restaurant that may just fit the bill- a place to chill and enjoy great food just around the corner. The Elephant Grill opened at Colombo 2 right next to the Slave Island train station- a few blocks down from the Fountain Cafe, the old Elephant House outlet.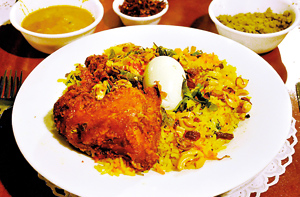 If you do remember those Elephant House hotdogs from childhood days, you'd be happy to know they have the Elephant House and Keells franchise and have all varieties of hot dogs like the favourite Elephant House hotdog with mustard garlic sauce as well as burgers with fries, nuggets and drumsticks.
The speciality of this new restaurant though is its Hyderabadi Biryani which is popular in India but is still relatively new in Sri Lanka. The Hyderabadi Biryani priced at Rs. 450 is enough and more for an individual as it comes with a quarter piece of golden roasted chicken, chicken curry, a boiled egg, mango chutney, Maldive-fish sambol as well as a Minchi (mint) sambol. They have additional Palandian and Masala chicken curries for those who like a difference. Seafood dishes on the menu include prawns and cuttlefish curries. They also have fish and vegetable biryani and deliver sawans sufficient for six people. Executive lunches are available for an affordable Rs.150 for chicken as well as fish and vegetables. 
The Elephant Grill is owned and managed by Palitha de Silva with his wife and daughter. "This building belonged to us but was given on lease for a long time. Then we decided we should open our own venture after recognising the need for a good restaurant where you could have a decent meal. We are targeting the office crowd around the area, families as well as tourists in the hotels right around who walk out looking for a local and healthy meal for a reasonable price. We are hoping to refurbish the first floor and open an executive breakfast restaurant offering food like club sandwiches, bacon and eggs and soups," says Mr. de Silva.
The Elephant Grill has an air conditioned restaurant on the second floor with a seating capacity of 45. An open kitchen affords you the chance to watch while the expert chefs prepare your meal and there's even a bar that will be open soon to cater to the diners. Guests can have the food there itself, take away or order delivery. There is no pork and beef on the menu and their meals are Halal. 
And if you're more thirsty than hungry, you could check out their beverages and fresh fruit juices like watermelon, mango and orange as well as a large variety of ice creams and other desserts.
The restaurant is open from 10 a.m. to 10 p.m., with the Elephant House franchise open from 8 a.m. to 10 p.m. on all days except Poya days. The Elephant Grill is located at No. 56, Justice Akbar Mawatha, Colombo 2. Their delivery hotline is 0726937245.
comments powered by

Disqus