Four-day cricket to the fore: SLC's new game plan
By S.R. Pathiravithana
View(s):
Sri Lanka Cricket has decided to bring the longer version of the game into focus once again from next year.
According to senior SLC personnel, the decision has been taken with a view to making the Lankan cricketers adaptable to the longer duration of the game with the 2017 Test championships in England looming in the horizon.
The longer version of the game — Provincial four-day tournament which was once heralded to be the flagship cricket championship in Sri Lanka — was thrown into the backyard this with in the SLC's haste to conduct the SLPL T-20 tournament and to make a window for it.
However, there is a strong indication that instead of the much flaunted Sri Lanka Premier League T-20 tournament, an ad-hoc T-20 tournament will be staged for the sole purpose of selecting a side to take part in the Champions League T-20 tournament at an available window next year.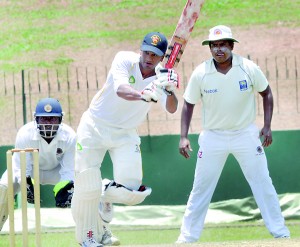 According to SLC's tournament committee chief Roshan Iddamalgoda, the Club Premier League Limited Overs tournament will begin in December this year and will be followed by the Provincial Limited Overs tournament and the two tournaments would finish by early January – the latest.
At the conclusion of the limited over series, the first round of the Club Premier League three-day tournament with fourteen clubs will get off the ground in January. All fourteen clubs which are listed in the top division will take part in this tournament, in two groups.
At the end of the first round the four top teams would be elevated to the super-eight four-day tournament. However, each elevated team will also have to play against the teams which it would not meet in the preliminary round. The balance six teams which would go into the plate tournament would continue to play three-day games, but they would have to face the teams that they would not play during the league tournament.
The team that comes last in the points table in the plate segment would have to face a relegation match against the top team of the Emerging Team's tournament.
Iddamalgoda said the SLC tournament committee is hoping to finish the Premier League tournament – League and the Super eights by March.
At the end of the Premier League Tournament will be the Provincial Tournament. Iddamalgoda explained, "We want to get the best assortment of players into this tournament and make it much more competitive. The Provincial Tournament will also be played for the duration of four days, but, still we have not decided whether it is going to be a tournament that comprises four teams or five teams. In any case, the Provincial four-day tournament is on".
comments powered by

Disqus