The NSASL has a dream; you can make it happen
Kumudini Hettiarachchi reports
President of the National Stroke Association of Sri Lanka Dr. Udaya Ranawaka stresses the importance of setting up a vibrant Stroke Centre.
View(s):
Let's look around us – if we are in a group of six, one of us will have a stroke in our lifetime. This is the shocker on the mind of the President of the National Stroke Association of Sri Lanka (NSASL), Dr. Udaya Ranawaka. Worried about the "huge problem" of stroke and the limited facilities that Sri Lanka has in dealing with it, Dr. Ranawaka who is also a Consultant Neurologist and wears the hats of President of the Ceylon College of Physicians and Senior Lecturer of the Faculty of Medicine, University of Kelaniya, is bent on facing this issue head-on.
He and the NSASL have a dream, he tells the Sunday Times, requesting each and every Sri Lankan to help make this dream a reality, which in turn will help all those who fall victim to stroke.  The dream is to set up a vibrant 'Stroke Centre' along with a hot line, where anyone be it a patient, carer of a stroke victim or those needing information about this dreaded disease can walk in and get help. The Stroke Centre will provide advice not only on how to cope with stroke but also information and facilities with regard to rehabilitation and risk factor assessment et al.
How will he and the NSASL proceed, for the NSASL is not a profit-making body and all the members are working in an honorary capacity, amidst their busy schedules? It also does not have a home of its own – just a room at the Sri Lanka Medical Association (SLMA).
The seed money will be from the concert, says Dr. Ranawaka, calling on people to lend a helping hand. To push home the message, this Consultant Neurologist explains the limitations in the acute care services for stroke in the country. The two main acute treatment modalities that are effective are Stroke Unit management and clot-buster treatment, the Sunday Times learns.
"Stroke Unit management is simple and inexpensive treatment under a multidisciplinary team in a dedicated area providing organised care," explains Dr. Ranawaka, pointing out that unfortunately, we have only about five Stroke Units for a population of 20 million.
The ideal is a Stroke Unit in every main hospital or at least one in each district to start with, according to him as "this is one of the most effective and cost-effective ways of treating stroke".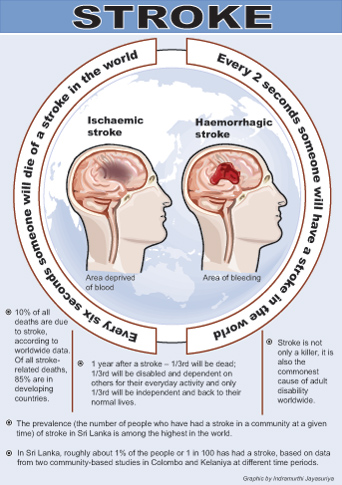 Next comes thrombolysis or clot-buster treatment, an injection which needs to be given during the golden window of 4½ hours after a stroke, after identifying through a CT scan whether it is an ischaemic (caused by a clot) or haemorrhagic stroke. This effective but costly treatment is available currently only at the centre — the National Hospital, it is learnt.
There are many things that need to fall into place to provide this treatment, says Dr. Ranawaka, adding that people around the patient should be able to recognise the symptoms of stroke and rush the patient to hospital. The hospital should be able to diagnose it as a stroke and arrange a CT scan to make sure it is an ischaemic stroke and hospital logistics should be available to start treatment on time.
The challenges are many — public awareness, lack of pre-hospital transport and medical care systems, availability of CT scans and an organised structure in a hospital to deliver timely treatment, it is understood.
Dealing with the importance of rehabilitation, Dr. Ranawaka points out that even among the patients who survive a stroke, ½ would be disabled and the urgent need is to improve the disability to allow them to get back to their normal lives physically, mentally and socially, as far as possible.
A comprehensive rehabilitation programme is needed, he says, explaining that currently such facilities are limited to a few Rehabilitation Hospitals. The target should be for every major hospital to have its own rehab unit and the Health Ministry is working to achieve this.
Once a patient is discharged, long-term rehabilitation within the community itself along with a support network is essential, but Sri Lanka lacks that. Happy that the efforts of the NSASL have paid off and that now people are familiar with the word aagathaya where earlier there was no one word in Sinhala for stroke, Dr. Ranawaka believes that there should be continuous and consistent public awareness campaigns among every segment of the population including schoolchildren. Stroke does not concern only the victim, but encompasses the whole family – it is a "family tragedy".
Another area is research to determine the burden of stroke, the availability of treatment and the magnitude of disability, he adds.
Join hands to fight stroke 
All those who wish to donate something towards fighting stroke, may send their contributions to Account No: 003010499372 at the Hatton National Bank PlC, Head Office Branch with the Account Name: National Stroke Association of Sri Lanka.
For more information please write to NSASL, No. 6, Wijerama Mawatha, Colombo 7; Phone: 00-94-11-2682630 or e-mail: nationalstroke@gmail.com
Flame to show the way
The well-loved band 'Flame' will have a special performance to raise funds for the NSASL on October 13, at 7 p.m. at the Bishop's College auditorium.
So keep the day free and join the 'Journey' when Flame goes into concert for the NSASL.  Leader Naushad Rassool says Flame is privileged to be part of the fund-raising activity for the NSASL which in the long-term would be a beacon of hope for stroke victims and their families.
comments powered by

Disqus