Run the good race
View(s):

Imagine that there's a knock on your door one day. Or an email, or a phone call. It's the National Olympic Committee. They're calling or calling on you to let you know that you – yes, dear, YOU! – have been selected to represent Sri Lanka at the next Games. And the event you've been picked for is the marathon.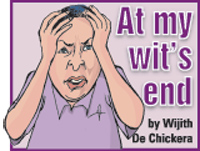 At first, you think it's a horrible mistake. Or a cruel joke. But as the officials keep talking, something happens. You begin to believe it is not a glitch in some computer, somewhere. They really mean YOU. They have been watching you for a long time now. And based on athletic records from your past, your present weight and height, your levels of personal fitness, you have made the cut.
Go, you!
Of course, you soon realize that the only race you've been running in recently is the rat race. And that has left you exhausted as it is. You're nowhere near winning THAT race. And the most depressing part is that, even if you were to win or win at the rat race, that would only make you the Number One Rat! Wouldn't it, dears?
So here's your dilemma. The officials are convinced that you're the person to run in the marathon for Sri Lanka at Rio de Janeiro, 2016. Your heart says yes, your body shouts no, your mind whispers maybe. In your heart of hearts you know that SOMETHING needs to change. FAST. But what?
Well, for starters, your body has to become stronger, leaner, faster. Your heart rate must slow down in the resting state and your muscles must pump blood more efficiently at peak time for best performance. Your diet must change, your sleeping and resting habits must be streamlined, your recreation must take a new shape and form. And most of all and most importantly of all, you must change your spiritual heart and mind and mindset. No loser ever won a race except by cheating or by chance.
You have discovered yourself by default. Or the fault of the National Olympic Committee. Now, by design, you must become yourself. You must become and be the best that you can be.
There is a problem. You can't run for toffee. You couldn't run to save your life. And now your chance for fame and glory lies in your ability to reinvent yourself. What will you do? What can you do? What could, should, and must you do?
Naturally, there is no National Olympic Committee that has picked you to run in the marathon. It was just a metaphor for the race that we've all been running. The one which started at birth. And the one which, to all intents and purposes, seems to end in and at death. It is a race we have no choice about being in. No one picked it for us. We didn't pick it for ourselves. But we ARE running it and in it. EVERY moment of our lives.
How are we running it? Where are we running it? Why are we running it? With whom are we running it? What are we really running – a race, or a limp, or a walk or a crawl? These are questions we rarely stop to ask or ask of ourselves or others. To the fish (to change the metaphor for a minute) the water is its natural element. To the liver, the race is the normal speed at which life flashes by. For some it passes by pleasantly enough. For others it is a hectic pace. For everyone it is a race with a starting point and a finishing line.
Now I want to ask you today how well you're doing at running the race of life. Well, dears, how is it for you? How did you start? How are you doing? How do you think you will end? That last question – and the answer to it – may hold the keys to the cosmos. For yourself personally. But also for family and friends. And for all your acquaintances, colleagues, fans, and competitors. How you run the race of life has repercussions for everyone in the stadium. In this race there are no spectators. The crowd is running with you. Or they are running against you.
You may have started well enough. But somewhere, something happened. The drag that runners dread, the weight that sprinters fear. Your personality, your temperament, your character – some fatal flaw in your personal make-up – has slowed you down; made you stumble, even; made you stop, perhaps? Before you can start up again, and get ahead, and get to the flag and the finishing line and the victor's laurels (everyone who breasts the tape, wins!), you must find out what your own personal fatal character flaw is. Then strip it off, rid yourself of it.
I have found out what mine is, and I'm at my wits end about it – until I can lay it aside, and run with perseverance again the race of life set before me. I trust you will soon feel the same way about yours.
comments powered by

Disqus