A legacy built for every downtrodden woman
An award-winning social worker and activist, the late Pearl Stephen was best known as founder-director of the Women's Development Centre. Here Namali Premawardhana gives us a glimpse of her remarkable life
View(s):
It was impossible for the woman to keep this beautiful 8-month-old boy. The girl-child was her original burden, and their father, for all his "love," wasn't going to provide for illegitimate children. He had another family to take care of. She was helpless. Then someone told her she should go to Kandy town and find the wife of a certain pastor. They told her she would help.
The woman was sitting with her child in the Kandy City Mission lobby when the pastor's daughter walked in. The 16-year-old couldn't think of anything more delightful than a baby at home, so she cajoled and finally convinced her mother to take the baby in.
So began the story of the legacy of Pearl Stephen who died on July 31.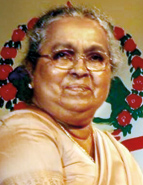 Pearl Stephen was a remarkable woman, an award-winning social worker and activist. She was best known as the founder-director of the Women's Development Centre which has strengthened thousands of underprivileged women and children all across Sri Lanka. Yet her greatness lay not in what she did, but who she was.
The night Pearl gave in to her daughter Shanthi's pleas, the baby refused to take a bottle. The infant's screams of hunger echoed through the house, punctuated by the scoldings of Pearl's husband and Shanthi's father, Rev. George Stephen. "We didn't know what to do," Shanthi, now Thilakaratne, half-laughs, half-cries. "So we did the only thing we could think of. We prayed."
Eventually, the baby became an inseparable part of the family. More and more destitute women began to show up looking for the Madam who would somehow help, and Pearl just kept taking them in. "We used to joke that it was like living at the Fort Railway Station," her older son, Frank Stephen, reminisces. "Sometimes at breakfast I didn't know who I was eating with. And sometimes I was even angry about it."
People from all walks of life were in and out of their home. But when the number of children living in the manse got out of control, Pearl finally set up a home in Balana, Kadugannawa.  But she didn't stop there. Pearl started asking why these children from the streets were showing up at her doorstep, and the answer was the women. Unwanted pregnancies, abusive lovers, financial dilemmas and all other domestic problems take their toll on the women of the house. Without the support or know-how to deal with these situations, many are forced to abandon their children.
In the aftermath of the violence of 1983, Pearl decided to take her passion to a new level. A table and a few chairs in the church garage, and the Women's Development Centre was a registered Non-Government Organisation by 1986. Pearl, her friend and co-social-worker Annie Kurian and three others were the original staff. They travelled to rural areas, gathering volunteers and helped in small ways to uplift the women they met. By the time the rioting began again in the late 80's, the WDC was well resourced. It was able to distribute provisions to stricken families and supplies to over 1,000 schoolchildren in many districts, through their volunteer groups.
Since then, the WDC has grown into a 150-strong force of determined, lively women with forums in ten districts from Vavuniya to Nuwara-Eliya and Ampara. They currently network, equip and mobilise over 15,000 women to effect transformation towards gender equality at grassroots level through advocacy, prevention, intervention and rehabilitation. Their Community Based Rehabilitation programme works with over 600 children and youth with disabilities in Kandy and Matale, operating nine centres through a 43-member staff. The WDC HIV/AIDS Prevention programme introduces alternative income generation opportunities to commercial sex workers and education to vulnerable groups and government departments such as police officers. They also provide family/psychological and legal counselling free of charge.
The Crisis Intervention Centre in Haragama does the heart-work of the WDC, providing shelter to destitute women and young girls who have been sexually abused. Pearl's vision was to meet ignored needs. Looking back, her son Frank sees 1993 as a point-of-no-return in his mother's career. A group of women from Batticaloa who arrived in Kandy for training at the WDC were taken into custody by the police, along with some staff.  Pearl was suspected of aiding the LTTE.
"That was when she knew she really had to keep doing this," Frank says. Among the staff that was taken away was Pearl's driver, Felix Wijerathne. It was only his first week of work at the WDC when he was almost accused of transporting terrorists into Kandy, and tortured for information.
Since being released, Felix aka "Wijey" has been cross-country countless times with Pearl and has story upon story to tell of their adventures together. Some of these stories are funny, some bizarre, some even scary. But what stands out is the relationship Pearl built with her employees.
Once, Wijey, the only Sinhalese in the vehicle, was asked to stay behind at an LTTE check point in Mullativu, while the others went ahead to Kilinochchi. "Madam didn't want to leave me there alone, so she stayed behind with me and asked the others to go ahead," Wijey says, admiringly. "There was never a madam-driver distance in our relationship, sometimes we ate out of the same plate."
Pearl moved across social barriers as readily as she moved across the country when she thought there was a need she could fulfil. She had a good grasp of English, Malayalam, Sinhala and Tamil and this equipped her to reach out to any and all.
"She never said no," Shanthi smiles. "If a pregnant girl showed up at the Crisis Intervention Centre and I turned her away for lack of space, I would get scolded. If there were no beds, she'd say, let her sleep on the ground, or tell one of the other girls to give up their bed. For her, it was not about the WDC, it was about the girls."
To countless of these women that have been through the WDC, she was a mother, friend and mentor. What set Pearl apart from others who play these roles in society, was the fact that she listened, in every sense of the word, to those she led.  "She never turned anyone away from her office without letting them speak," Shanthi says.
And she listened.
Pearl heard a cry rise in her city that most did not. The cry of the downtrodden woman. And she chose to answer it with every breath.
Most trees, as Pearl's brother, Rev. Reggie Ebenezer shared at her funeral service, are hardest at the heartwood. But palms, on the contrary, are hardest at the bark and softest at the centre.
This was Pearl.
She came across as curt and businesslike on the surface, but inside, she ached for the marginalised, the unsung heroes on whose shoulders the powerful ride. As her husband George Stephen sees it, there was one such unsung hero in Pearl's childhood whose story spurred her on. Her mother, Mary Ebenezer, was a humble Malayalam woman who served her husband, an exacting man, day in and day out. This was Pearl's reality of gender relations until she married Rev. George Stephen.
George Stephen is a humble man. He saw the relationship of his wife's parents and decided one morning, that his relationship with his wife would be completely different. The love and mutual respect they had was what inspired Pearl to share the possibility with other women. Her children know that Pearl could not have impacted the lives of half the people she helped, if not for her husband.
"A lot of the time, women are pressured to stay at home and look after domestic affairs," Shanthi muses, "but Dadda always supported her and it was because of him that she went so far." "For my mother, women could go anywhere," Frank says, "but the difference was, she wasn't a feminist. She was firmly grounded in the family."
Pearl's oldest grandson, Sean Stephen, knew his grandmother was a woman passionate about her work. But it was not until after her death that he began to understand the breadth of her reach, and the force of the impact she made. Until then, he knew her great cooking, the dumplings she made on his birthday, and her calm demeanour. "She had a bubbly laugh," he smiles, "and her whole body shook with it."
Her husband George remembers what a wonderful companion and strong helper she was. But Pearl Stephen's legacy was not built just for these. Pearl's legacy was built for every woman that packed the Presbyterian Church at her funeral service. For every woman who stepped up boldly out of their comfort zones to bear her coffin.
Pearl Stephen's legacy was built for every woman with a crushed heart and a broken body, whose 8-month-old child has no place to call home.
A thanksgiving service remembering Pearl Stephen's life and work will be held at the Presbyterian Church in Kandy on Saturday, August 31 at 10.30 a.m.
comments powered by

Disqus