Appreciations
View(s):

My Loku Amma, the guiding light in my life | Prajapathy Angunawela

Prajapathy Angunawela, my Loku Amma, was 94 years old on May 10, this year. The last of the chain of Dana Pinkamas offered annually at her home took place a week later. This Pinkama was the culmination of her meritorious acts of 50 years. In addition to bestowing merit on her dearly departed as was customary, this alms-offering had another intention – to bless her in her ripe old age and failing health after a fall resulting in a tibia fracture, a year before.

She was contented after the pinkama, which provided her the opportunity to speak to the venerable Nayake Theras of the vicinity and inquire about the education of novice bhikkhus. She had been extending her co-operation to the 'Buddha Sasana' by word and deed, providing financial and material assistance continuously. She had also been the President of the 'Kulagana Samitiya' for a record period of 45 years.

After the pinkama, she lived in a peaceful, pious and serene happiness for only six weeks. On July 3, a sudden cardiac infarction ended her life. Even in the last few moments she was conscious enough to answer queries and swallow pills by herself.

My earliest recollections of Loku Amma, my mother's elder sister go back seven decades. She always addressed me as 'Duwa, my own', in her neatly written letters. Why did she call me 'Duwa, my own' – that's a long story. A marriage proposal for her from my father, a school teacher from the neighbouring village was turned down, as Loku Amma wanted to pursue a teaching career. In the colonial era, Kandyan girls were barred from pursuing a profession and were given in marriage at a tender age to live on the revenue of family property. Loku Amma being a strong-willed woman defied this tradition. The head of this matriarchal family, Chintha Dullewa, my great grandmother, fully aware of the prospects of a government trained teacher at that time, fixed the proposed marriage to my mother who was not keen on studies but stitching frocks for dolls. So by and by my mother got married before Loku Amma, at sweet sixteen.

Soon after I was born the following year, she got an appointment as a teacher. She was overjoyed and would proclaim, "It's my Duwa who brought me luck! My ambition has been fulfilled". Thereafter she was in Colombo, Negombo, Kalutara and Moratuwa teaching in prestigious schools. During school vacations she came to her ancestral home in Ehalepola where an extended family of four generations lived together in harmony. It was then that my mother conveniently packed me off to be nurtured by her and she was glad to have me with her. I still remember the daintily embroidered dresses she made for me. Her favourite hobby was gardening then. Methodically laid out beds of dahlias, daisies, zeenias and sweet-peas made the garden bright and colourful. The hanging pots of carnations, chrysanthemums and geraniums filled the air with their sweet aroma. These childhood memories of a charming old world flash across my mind in solitary moments. Loku Amma was independent, a perfectionist and strict disciplinarian.

No one dared to oppose her views. There was no molly coddling with her and she never engaged in idle talk or gossip. Later when she married Chandra Angunawela, she moved to Peradeniya. Her last and longest spell of teaching was at Zahira College, Gampola during the late Dr. Badi-Uddin Mahamud's era. As a school leaver, I opted to live with her at Peradeniya for long periods. It was then that she encouraged me to work as a primary teacher at Zahira College with the consent of the principal. I'm ever grateful to you Loku Amma for this. The experience I had at Zahira was my first step in teaching before joining government service as an English Teacher a few months later. Thank you Loku Amma for your visionary guidance.

She was a picture from the past. From beginning to end she wore the traditional Kandyan saree with a pointed (kulu) osariya, complete with a puff-sleeved jacket to match. The simple konde never changed in style. She was unique in attire, dignified in appearance, and popular among the vast family circle as 'Praja Akka'. She was a beneficiary to the less fortunate, eager to help whenever needed and always ready to encourage anyone with her timely advice.

Loku Amma you lived well and your life ended peacefully too. May your journey in Samsara be short. May you attain the Supreme Bliss of Nirvana.

I kneel at your feet in obeisance.

Upendra Bandaranayake

He served Buddhism and humanity | Hemasiri Dias Abeywickrema Gunasekara 

Graveyards remind us of people who have passed away; some being remembered with heart-breaking epitaphs, whilst others perhaps, have their lives' "songs" sung silently by their dear ones.  A few weeks ago, we felt a sudden gloom or unhappiness enveloping the atmosphere at Nawala, Rajagiriya, as news spread fast of the demise of Hemasiri Dias Abeywickrema Gunasekara (87), an affable senior citizen of the area.

Honourable and virtuous in many ways, he went on his samsaric journey with no apparent illness or pain. He resided at the old Nawala Road, and his home was often the hospitable rendezvous of many who sought his wiser counsel. Hailing from Habaraduwa in the Galle District, Hemasiri Gunasekera, an all-island Justice of the Peace, was educated at Mahinda College. He joined the Ceylon Government Railway and with dedication served the institution for long years, until he retired from service.

Being a founder member of the well-known YMBA at Nawala, he gave life to its programmes, serving as a vice president until his demise. The Poya Programmes were admirably conducted under his guidance. It was to his credit that the YMBA Library was well equipped, with reading material for all ages.

Hemasiri Gunasekera was a "live wire" of the well-known Vimala Vihare at Nawala, serving in the Dayaka Sabha as a lay advisor. He also, during his retirement, spearheaded many activities of the Buddhist Theosophical Society (BTS) in Pettah. He was elected as its president for three consecutive years, during which period the vision of Col Henry Steele Olcott, the founder of the hallowed society, was strengthened. As BTS President, he was instrumental in winning back lost lands through legal battles.

Hemasiri Gunasekera had shown interest to wean-away misguided youth from the harmful use of narcotic drugs. Those present at his funeral were reminded when a group of 15 youths, who had been freed from narcotic drugs addiction, stood by his coffin silently in a show of gratitude with their heads down in silent prayer.

He leaves behind his wife, his son Samiddha, who resides in Sydney, his daughter Kumari and several grandchildren. His well-attended funeral was held in Colombo, and his ashes were interred at the family burial grounds in Habaraduwa, alongside the graves of his parents and brother.

Upali K. Salgado

Here's to memories of all that was wonderful | Prof. Henry Nanayakkara 

A letter to my Aunt

It's the early part of the morning and the house is empty. My husband has biked off to work and the children to school. It is foggy and cool– a perfect time to allow my sadness a voice.

I talked to Ammi yesterday asking about you. She said you were doing fine. So very glad to hear that. You were there for Uncle Henry when he needed you. And I hope that in this next phase of your life, those things that were put off while being a primary caregiver will find expression.

Manifold memories–both of you dropping in for an evening chat, Henry Bappo sitting in the same chair each time. I prepare his drink. Later, my first Bailey's with you. I think it was New Year's Eve. And it was just us and the neighbours. And the trips. Oooh the trips! Yala, Wilpattu, Nilaweli, Kandy, Horton Plains.

I vividly remember picnicking next to a waterfall and Henry Bappo attempting to cross over. Ammi, you and I sat on the banks. You were terrified. And I remember looking at your face and then at Henry Bappo and back again, wondering what I could do.

Some of the happiest memories of my childhood are of trips that Henry Bappo and you made possible. My absolute favourite place was Diyatalawa. Years later, I took my husband to see that amazing house. I spent many hours in the library there discovering P.G Wodehouse and cackling with laughter. I still salivate over the fantastic food – picnicking in those beautiful hills surrounded by wildflowers, eating tomato and onion sandwiches on freshly baked bread. Perhaps, our last trip there was the one in which Thaththi and I (and a couple of others) climbed Kirigalpotta, hiking through a blooming Niloo forest that burst into flowers, apparently only every twelve years.

Memories of Henry Bappo are inextricably intermingled with those of Thaththi. They were so close and complementary. After the umpteenth stop on the way somewhere special, there was Thaththi chuckling to himself about those who only went from point A to B and missed out on all the fun. We all knew whom he was referring to and the affectionate exasperation they revealed – an Aiya for his much loved Malli. Many years later, Henry Bappo confided in me, how Thaththi wept when confronted with his own mortality.
Now that I am a parent myself, I wonder how Henry Bappo lived through the horror of burying two children. As a doctor, he had helped so many strangers. Yet, he suffered the loss of his own at such a young age. Such unimaginable pain.

How could anyone climb out of that pit of despair? Still, he gave and gave to others. And I never experienced an unkind word – children remember.

I remember confiding in him one day, worries about my constant sinus infections. There was the nagging, unarticulated fear that something was terribly wrong. In his best professorial voice, he told me that the most intelligent people had sinus issues.

Suddenly those black holes in my skull were not potential horrors but a badge of honour. He was a kind man. I loved him dearly. I wish I were there to say goodbye – this letter will have to do. I am grateful, to have seen and spoken with him when I came back to Sri Lanka to say goodbye to Thaththi.

Aruni Nanayakkara

You were my one shining star | Victoria M. Hassan 

It is with a sense of deep sadness that I write about my loving wife Victoreen M. Hassan. Five years have passed since I lost the light of my life. I cherish the love you gave me Vicky and I thank God for the gift of your life. Life is so lonesome without you.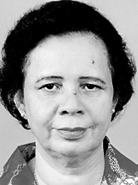 I will always remember you with much love and gratitude no words can ever say. The day we held each other and kissed are precious memories time cannot erase. We married on October 8, 1968 and spent a happy wedded life for almost 40 long years with fun, laughter and joy. She passed away peacefully on August 25, 2008 after a brief illness.
Victoreen you were loving, caring and the greatest blessing in my life. We prayed together as one from the first day we got married until your untimely death. Now I continue to pray all alone whatever we prayed together. You gave life to our children and when I needed hope and inspiration you were always strong. In life we loved each other so dearly and it broke my heart to lose you.
Vicky, precious memories are all that you have left for me, no more will I see the love shine in your eyes, and the tender words you spoke to me so softly. You are gone so far away from me and I am so lonely since you were called to rest. It seems like only yesterday I had you with me.
Although you are gone, I know you are near me and all my fears disappear. The only consolation is that you are now in God's hands. Dearest Vicky, my heart is shattered and all the words can offer no relief. My love for you won't heal the pain I suffer. There isn't a day that passes without you being remembered. We met, we loved and lived a joyful life and now physically separated to know that we will meet some day is my only comfort.
My undying love for you is there till that glorious day. I cherish all the love you gave me and thank God for the gift of your life. Victoreen, I was there for you, always beside you and always near you, as you were my one shining star. I walked beside you, loved and guided you.
Thank you Victoreen for the wonderful and generous sacrifices you made for me and our children and all the loving care and affection you showered on me. Darling Vicky our special years will not return, when you were with me together but the love within our hearts will always remain.
Your loving husband.
M. Kamil A. Hassan
comments powered by

Disqus