To keep the parasites away from Lankan soil
View(s):

When I was a bit younger the question of why do they keep all the doors and windows opened in a house when there is a corpse lying really intrigued me. Was it just an age-old superstition that people do blindly follow or was it any other faith related matter? It baffled me. Yet, one day someone upgraded my wisdom upon it. He explained that once any living being ceases to breathe, the parasites who had feasted upon the body begins to leave and they are afloat in the near atmosphere looking for another soul inmate. To me that explanation was quite plausible and I believed in it.

I parted with that little personal anecdote was because that occurrence is quite related to the happenings in the field of cricket in the present context.

During the past two weeks the cricketing world, especially the Indian sub-continent, exploded with the flooring of three playing beings in the Rajasthan Royal's cricket team and a humpbacked giant at Chennai Super Kings.

Though it was breaking news, the arrest of S. Sreesanth, Ajit Chandila and Ankeet Chavan was only an important breakthrough. Along with the three cricketers, nearly a dozen bookies were also arrested – that was just a part of the game. Then the subsequent arrest of Bollywood actor Vindoo Dara Singh provoked interest, yet upon Singh's singing the arrest of Meiyappan Gurunath – the son-in-law of the BCCI boss N. Srinivasan — hit the headlines and the very souls of the educated cricket-loving section of the continent.
Now the focus is upon Srinivasan.

Upto the time of tapping these few words on my computer, Srinivasan with the support of 17 big-wigs of the regional cricket governing bodies in India is holding on to his end, facing very defiantly the barrage of bouncers, yorkers and even beamers bowled at him.
Now his prime target is the media. Srinivasan in his counterattack has latched upon the media and berated them with venom while calling himself clean.

However, a stubborn fact remains. The IPL is tainted. Even the very man who married the BCCI chief N. Srinivasan's daughter is in police custody for alleged wrongdoings while associating with the game in Chennai. The three cricketers were from the Rajasthan Royal, a team from a state way up in India. Gurunath's base is Chennai, the capital of southern Indian state of Tamil Nadu. This speaks a little about how the minute parasites have spread in the main body.

It was interesting reading in Cricinfo how a former BCCI head, Shashank Manohar, had lashed out at the developments. He had called for a probe by an external investigation agency of all IPL matches in the just-concluded sixth edition. He had said that the Indian cricket governing body should not depend upon its own anti-corruption unit or the ICC's anti-corruption and security units to keep cricket clean. He pointed out these agencies do not have the authority to track illegal activity like tracking phone conversations.

Cricinfo quotes Manohar as saying, "the BCCI should immediately file a criminal complaint with the investigating agencies, urging them to probe all 75 games [76] in the current IPL edition. The board should provide them [the investigating agency] with a raw feed of the games as well as CCTV footage recorded at every venue".

This means that there are rationally thinking people in India who believe that there is corruption in the game of cricket played in India and some meaningful – even drastic steps — should be taken to clean the game up.

There is a section of people who also believe in the norm that especially the shortest version of the game of cricket is prone to hacking. The very format of the game, where players keep trying new ruses to fox the opponent and take many new risks that they do not take in a conventional game, gives the crooked mind many opportunities. It's like the West Indian T-20 legend Chris Gayle who scores a 61 ball 175 runs in one inning and a very subdued 36 in 39 balls in another in quick succession, is like a juicy five-star meal to a crooked mind, hypothetically imagining that he was privy to that information. For a moment I am not saying that Gayle was involved in any crooked activity at this version of the IPL, but it was only one instance that I could think of, on a bookie's bread and butter.
That is the narration about the Indian Premier League and its lowest point in the six-years that it has been in existence. But, the fact is the Indian bookie, like a parasite, has been latching on the game for a long period and even in Test cricket and players with huge names.

But now the entire focus is upon the Indian bookie and every policeman in India may be trying his hand in becoming another 'inspector Columbo' who solves the most complex crime with a twinkle in his eye and a smile on his face.

This means the bookie has to lay dormant for a while in the biggest cricket market in the world with more than a billion people. Alas! They do have another opening, with the same prime time of TV action coming their way in a couple of months away.

Sri Lanka Premier League tournament may be smaller than the IPL and it may not have the big Indian favourites taking part. But, the fact remains that at least for the time being the Indian bookie has to lay low in his home country, and meanwhile they also have to exist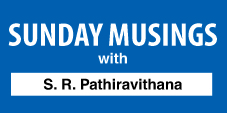 and carry out with their businesses. At the same time, there is a new breed of cricketers who have sprouted out as a result of these mushrooming T-20 tournaments around the world. So even in the SLPL there would be that given share of international stars – the cricketing mercenaries – performing for a fee. These cricketers have one motive in mind. They are keen on making their next dollar and they do not give much thought of how they land it in their pocket.
If the SLPL becomes their prime market even for a while, may be the bookies also must be having their own ways of making the tournament bigger and brighter so that the Indian audience gets interested in it. Once that happens they can move camp to Sri Lanka till the heat is off in India.
I wonder if any of Sri Lanka's cricketing brains have thought about this angle. If not now it is the time to think of it. If we fail to act on time we would see the entire Interpol; the ICC anti-corruption units and other hocus-pocus converging on the island adding to the woes we already have, nationally and internationally
PS: The foul odors that are emanating from the last SLPL are already beginning to spread. To see even we are trying to bowl the length delivery after the winning six is hit.
Follow @timesonlinelk
comments powered by

Disqus