Favourites take major honours
SSC Open Tennis Tournament
View(s):
Favourites in junior tennis such as Nethmi Waduge, Nabeel Sabri, Aadawan Pushparaj and Rukshika Wijesooriya took major honours at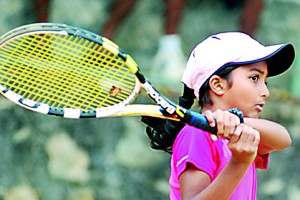 the Sinhalese Sports Club (SSC) Open Ranking Tennis Tournament which ended this week at the SSC clay courts in Colombo.
Young tennis sensation Nethmi won the Under-18 and 16 Singles events without much hassle as she recorded two stright wins on her way to glory. In the Girls' Under-18 Singles Nethmi beat Kavinda de Silva by tow straight sets as she went on to win a double after thumping over Thewuni Devaaja in the Girls' Under-16 Singles.
In the Boys' Under-18 age category, Dhanushka Abeywardene won the Singles title as he managed to bounce back for a well deserving win against Yashitha de Silva. Dhanushka lost the first set but bounced back to clinch the following two sets by throwing his weight in a keenly contested final. The Doubles final of the Under018 age group was won by the pairing of Chehan Fernando and Avishka Perera who went on to beat the Singles champion Dhanushka and Venuka Hulangamuwa by two sets to one.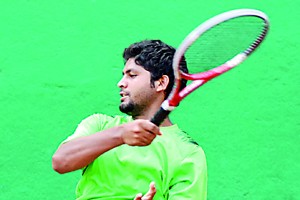 Nabeel Sabri won a double in the Boys' Under-16 segment as he went on to claim its Singles and Doubles ties with ease. Nabeel beat Naadir Nazar in the Boys' Under-16 Singles final in a dull battle by two sets to one. Nabeel's second win in the competition when he coupled up with Kirshanthan Rajendrasingham to beat Naadir Nazar and Amandha Gunawardene by two straight sets in the final.
Aadawan Pushparaj stole the limelight in the Boys' Under-14 age category by winning its Singles and Doubles titles. Aadawan won the Boys' Under-14 Singles when he produced a stirling performance to beat Isuru Wijeratne by two straight sets. Aadawam then paried up with Andrew Muttiah to beat Isuru Wijeratne and Udayachandran Srinath in striwhgt sets ton win the Boys' Under-14 Dounles title. Rushika Wijesooriya beat Medhira Samarasinghe by two sets to one and clinched the Girls' Under-14 Singles championship. However the Singles rivals Medhira and Rushika paired to hand Asalya Bandara and Thuruni Sahashrika a thrashing by two sets to nothing to claim the Girls' Under-14 Doubles championship.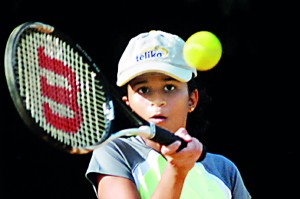 In the Under-12 age category Nelaka Dissanayake beat Ashen Silva to win the Boys' Singles title by two straight sets while Prabuddhi Perera made a solid come back to register a two sets to one win against Natasha Munaweera and claim the Girls' championship.
NA
Pix Kavishka Wanniarachchi)
Results
Boys' U-18 Singles: Dhanushka Abeywardene beat Yasitha De Silva 6/7(5) 7/6(6) 7/6(5)
Boys' U-18 Doubles: Chehan Fernando and Avishka Perera beat Dhanushka Abeywardene and Venuka Hulangamuwa 2/6 7/6(8) 10/4
Girls' Under 18 Singles – Nethmi Waduge beat Kavindya De Silva 6/3 6/4
Boys' Under 16 Singles – Nabeel Sabri beat Naadir Nazar 6/2 1/6 6/2
Boys' Under 16 Doubles – Nabeel Sabri and Krishanthan Rajendrasingham beat Naadir Nazar and Amandha Gunawardene  6/1 6/3
Girls' Under 16 Singles – Nethmi Waduge beat Thewuni Devaraja 7/6(5) 6/3
Boys' Under 14 Singles – Aadawan Pushparaj beat Isuru Wijeratne 6/4 6/4
Boys' Under 14 Doubles – Aadawan Pushparaj and Andrew Muttiah beat Isuru Wijeratne and Udayachandran Srinath 6/4 7/6(4)
Girls' Under 14 Singles – Rukshika Wijesooriya beat Medhira Samarasinghe 6/4 4/6 6/2
Girls' Under 14 Doubles – Medhira Samarasinghe and Rukshika Wijesooriya beat Asalya Bandara and Thuruni Sahashrika 6/2 6/0
Boys' Under 12 Singles – Nelaka Dissanayake beat Ashen Silva 6/2 6/3
Girls' Under 12 Singles – Prabuddhi Perera beat Natasha Munaweera 1/6 7/5 6/2
Follow @timesonlinelk
comments powered by

Disqus