Act now or that bite from the game can become dangerous
View(s):

I wasn't at the game between Royal and Isipathana but a friend sent me the link on You Tube which highlighted the atrocities committed by the team in Green.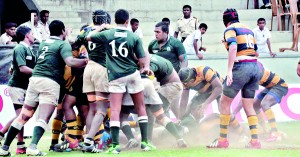 Every foul deed possible was done, from eye gouging to kicking an opponent on the floor. It is a shame the referee didn't take a more stern approach. An early red card would have nipped the problems in the bud and the game might have been concluded.
Walking off from a game was possibly the last recourse and Royal, driven to frustration and anger, had no option but to do so or otherwise run the risk of some serious injury to its players. Let me state right here, that I'm an old Royalist, and as such might be biased towards the Alma Mater. But leaving aside partisanship, it was the correct decision to take, especially under such duress.
And this raises the issue about Isipathana's approach to the game which over the years has come in for criticism for their somewhat unorthodox approach to say it mildly.
A team cannot play in this fashion unless they are given the blessings from its coaching staff. Roughhouse tactics can be part of rugby. We have seen teams involved in fisticuffs as emotions take over cool caution. These are acts in the spur of the moment, not carefully orchestrated thuggery as was the case here.
Eye gouging, for instance, is going to the extremes. Here you are out to maim an opponent. It is a pre-meditated act, one which cannot be done by accident. You are out to hurt your man.
This code of unbecoming conduct would not be possible if the coach or master in charge of the Isipathana team frowned on such acts. A player, especially a teenage schoolboy, would not have the audacity to go as far as try to pluck out the eyeballs of his opponent if he knew that such an act would see him being thrown out of the team.
Sadly the very fact that it happened points an accusing finger at the powers-that-be behind the Isipathana set-up.
By the time you read this, the Sri Lanka Rugby Football Union might have decided on what course of action to take. Let's hope the governing body has the gumption to come out hard on this sacrilegious behavior on a rugby pitch and penalise both the players as well as the people behind the team in green.
You practice this at schoolboy level and it can continue into club and national rugby too. In April, I was around for the Asian Five Nations Division One tournament which Sri Lanka won so handsomely defeating Thailand, Taiwan and Kazakhstan.
After the final game against Kazakhstan, during the post-match social, a number of Kazakhstan players were spotted walking around in bare bodies proudly showing off bite marks on their backs. It was as if Hannibal Lecter had lunched on them.
Asian Rugby Football Union secretary general Ross Mitchell was seen running around trying to see if there was any video evidence which point show the Sri Lankan transgressions.
It was a pity that such a fine victory should have been clouded by charges from the opposition that Sri Lanka was a bunch of man-eaters. We don't need this.
But there seems to be an ethos of violence in local rugby which is overlooked by the authorities. From school level to senior rugby, players indulge in acts of sheer depravity perhaps safe in the knowledge that they can get away it simply because the authorities turn a blind eye, or even welcome it.
It is time a code of conduct be drawn up by the SLRFU, not so much as to follow the guidelines and rules set down by the International Rugby Board on foul play, but a charter which goes even further and states unequivocally that any player or team caught indulging in foul play with intent on bodily harm be handed lengthy bans from all rugby run by the governing body.
An example should be made of Isipathana. We have on video clear evidence of the players, with their numbers written on their backs, taking part in these senseless acts of harm. They should be banned. Schools must know that any dastardly behavior will be harshly dealt with.
You start to right the wrongs in the cradle and the rugby offspring grows up to be a fine product.
Next year Sri Lanka takes part in the Top Five tournament in the Asian Five Nations. Please keep those mouthguards on in the ruck and no biting please. If you are caught, it is curtains not only for the individual but also for the team who will need to be at full-strength in numbers if they are to defeat the likes of Philippines, Hong Kong or South Korea.
We must learn to play the game hard and robustly, but fairly too. Okay, now and then one might lose your temper and in that moment of red-blood rage, throw a punch or three. But eye gouging is a no-no. You can't get away with such a cold-blooded act.
The sad thing about rugby in Sri Lanka is that grudges are held and remembered for a long time. It is as if the emblem of the national jersey – the elephant – is living up to its reputation of having long memories.
Overseas, what happens on the field stays on the field as players share a post-match beer. They play hard and they party harder too. There is no time for petty grievances. Sri Lanka will do well to learn this lesson.
Follow @timesonlinelk
comments powered by

Disqus