Being properly prepared or fill in the blanks with a booster
View(s):

The first paragraph of the SLRFU safety and health policy document reads "Injuries are a part of any contact sport. Serious or life threatening injury in Rugby is, however, rare. The outcome of many injuries can often be improved by having a proper Health and Safety Policy for Rugby Football in Sri Lanka." This document has been prepared together with the Sports Ministry Medicine Unit. This is a comprehensive document that needs to be read by those involved with the game but I doubt whether this has got to the hands of most who matter.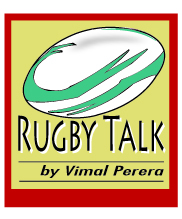 I thought it was a good thing when parents as well as others in the game talk about safety that was paramount in trying to convince the reason for the Royal walk out in their match against Isipathana played last week. Those interested are arguing the case for and against as it suits them. Royal called out the team at a time they thought the options open have been exhausted. To them the safety of the player was the crux of the matter. This should be a concern for all interested and involved with the game.
When we talk of safety one area I find in most schools is the lack of concern when those below 18 are played in adult teams. The safety policy of the SLRFU falling in line with IRB guidelines defines adult rugby and Players under 18 and19. There are restrictions as well as approvals that are needed when under-18 play with players who are 18 years and over. The requirement is a consideration that the player is in a physical condition to play 'Elite Adult Rugby' and that this view is supported by a muscular-skeletal evaluation and/or other appropriate assessments. The strictures are stronger when it comes to an under 18 playing adult rugby and in front row positions.
Do we consider all these in the rugby scene of schools? Take the hypothetical example of an under 18 who is thought fit t to play adult rugby despite the lower age. The first thing the parents would look to see would be the chances of the son captaining the schools on seniority as against physical safety. No harm to aspire and hope for your son to captain but should you risk the rest of the life as a player who may sustain a neck or spinal injury which may not show immediately. The attitude however will not be the safety of my son but whether my neighbors' son will otherwise captain. His advantage is that he plays in a position where the muscular demand will be less and then have a better chance on seniority.
Another important neglect of safety is where parents connive or hide injuries or sickness of a player to enable an early return after an injury.
The graduated return to play is often ignored and sometimes he is back on the field after 5 minutes. Very often the next day despite that the legs don't carry him or the brain is still hazy after the last knock. A concussed player returned within 15 minutes and played again despite the serious possibility of future damage. According to sources in sports medicine there are a number of players who have shortened their careers due to the non treatment of injuries and have returned to play before recovery.
Chula Dharmadasa who heads the health and safety committee of the SLRFU speaking to this column confirmed that they are aware of some very good players who are not continuing rugby after the school season. Most are a result of being overloaded and continued to play while nursing an injury. Chula spoke of a player who was taken to the intensive care due to overload and no action was taken and the persons involved continue to coach.
He thinks that the reason is that those in the game including coaches, parents and old boys want to win and continue to field a player who may not have recovered fully. Parents too don't want to see their children come out of a match as this probably can upset their chances of captaincy or colors. While accepting the action of Royal was perceived to be inevitable he advises parents to be more careful and vigilant in continuing to play an injured player. The inability to have concern for the wellbeing is because of the desire for my son to achieve. This has resulted in a high cost to the game, the team as well as the player. Elite rugby playing countries have seen this problem and unions have put in place a system of encouraging player safety which in turn has helped the game.
I would add to this and say the coaches, the administrators/ advisors and parents should be honest with themselves not only in the case of injury and concussion but in all forms that require attention to player safety and not just cry hose when there is some hard or unwanted play.
The unsupervised use of supplements and or energizes have also led to player safety being jeopardized on the long run. There is a perception that these boost performance but are all that is n the market good for the boy. I talked with Principal of a leading and old rugby playing school who said that consequent education of the governing body; most boosters were taken off on medical advice. He says that he has observed a reduction in injuries since doing away with these commercial gimmicks. The problem however is that people tend to argue that this has reduced performance. This performance was like broilers who put on weight and ready for the table albeit the fact is that life is short.
The energy drink industry has been taking a pounding lately, with wrongful death lawsuits, FDA health hazard probes and accusations of having deadly ingredients. Now Washington wants answers, as several senators reportedly ask that industry, "What on Earth is going into these drinks?"
- Vimal Perera is a former
Rugby Referee, coach and
Accredited Referees Evaluator IRB
Follow @timesonlinelk
comments powered by

Disqus