Renewing a friendship and recalling shared memories with Aung San Suu Kyi
View(s):

Damini, wife of Arthur Basnayake of the Sri Lanka Foreign Service's first batch of Officers is a close friend of Daw Aung Saan Suu Kyi, as her mother was Head of the Mission of Burma and Damini's husband was with the High Commission of Ceylon in New Delhi in the 60s.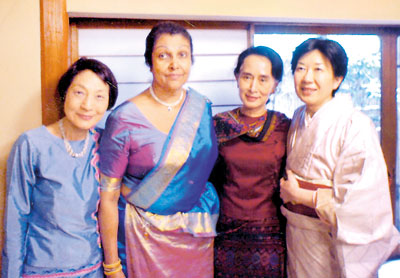 Visiting Japan at the invitation of the Ministry of Foreign Affairs during the New Year which is observed in Myanmar as in Sri Lanka, Daw Aung Saan Suu Kyi met with friends including Damini at a luncheon to which the Japanese Foreign Ministry had invited Damini to "refresh tons of good memories" as the letter of invitation states, quoting her.
Damini had kept in touch with Daw Suu Kyi over the years. When Arthur was Ambassador to Myanmar in the late '70s, they renewed their old friendship with Daug Aung Saan senior while Daw Aung Saan Suu Kyi herself was up at St. Hughes College, Oxford where Damini's mother had been Sri Lanka's first woman graduate.
When Arthur was ambassador to Japan for the second time, Daw Aung Saan Suu Kyi was with her husband Michael Aris in Kyoto and the two ladies enjoyed visiting each other.
Daw Aung Saan Suu Kyi supported Damini and Arthur on the "Only One World" Educational Foundation they established in 1991 in which Arthur, their youngest son Dr. Kolitha Basnayake and Daw Aung Saan Suu Kyi are patrons. The foundation grants scholarships to children of low income families in schools and universities as well as supports vocational training for needy children and donates medical equipment to hospitals and to elders' homes.
Damini and Aung Saan Suu Kyi are linked by not only their early youthful interests but also by their later mature ones in Buddhism and education
Follow @timesonlinelk
comments powered by

Disqus