Her journey and that of many others
View(s):

Internationally acclaimed writer Michelle de Kretser's latest novel 'Questions of Travel' has been described as her most ambitious.
Here she discusses with Smriti Daniel what makes this book more personal and political than her previous three

Before she ever puts pen to paper, Michelle de Kretser knows how her book will end. What she's more uncertain of is whether there will be a book at all. If 'Questions of Travel' were her last novel, it would be a pity, for it's clear that here is an author at the height of her powers, but it's a possibility she won't rule out.

"I think writers have only a few books in them – some have more and some have fewer. Some keep on writing and publishing even after they run out of things to say and I don't want to be that person," she says, her articulate, pleasingly accented voice coming through over a Skype call. Her next novel is already in the "hunting, gathering stage" but she is used to questioning its vitality. This, Michelle concedes, might have other causes: "It's possible that the feeling I have at the moment is just pure exhaustion from 'Questions of Travel.'

You can see how that would be possible with the 500 page novel being hailed by critics as the most ambitious of the multi-award winning author's four books. It is also in some ways her most personal. "It brings together disparate strands of my interests and my experience," she says. "The other books have tended to keep those things separate." Sprawling over two continents and claiming four decades for its epic account, 'Questions of Travel' introduces Ravi Mendes and Laura Fraser.

Their lives are shaped by the same forces that have moulded the modern world – travel on a scale never before imagined, the dizzying acceleration of technology, the connections and isolations made possible by an expanding world wide web, politics that cross borders and make one country's problems another country's concerns and the ever thickening line that separates the experiences of those who have money from those who do not. More political than her previous work, the novel is nevertheless built on its intimate portraits of characters both major and minor.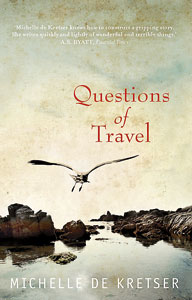 Though Ravi and Laura are both travellers, they could not be more unalike. One's displacement is literal and physical, the other's internal and emotional. Ravi is forced to flee the country after tragedy befalls his family, Laura is propelled onto planes and buses by another kind of fear, that of never finding meaning in her life or a place where she belongs. Laura comes from an unhappy family but is left the buffer of an inheritance which she uses to travel the world. Ravi, deeply damaged, finds technological marvels and alternate existences online. (Confessing to an "archival impulse," Michelle says she wanted to capture the awe and magic the web first inspired.) Their stories become entangled as each claim, if only briefly, the experience of living in the other's country.
Much of the action is set in Sydney, where Michelle moved to with her partner (and their dogs) a few years ago. Having placed her previous novel, 2008's 'The Lost Dog' in Melbourne, she decided to relocate the action in 'Questions of Travel' to Sydney without ever having lived there. "In retrospect, it's extraordinary that I thought I could do that," she says, admitting that she couldn't possibly have gotten the details right. As a resident of the city she now understands the slow turn of the seasons, has taken in the incomparable view from Platform 2 of the train station and read the names on the gravestones planted amid the wild beauty of Waverly Cemetery. She knew Ravi would marvel at the sight of people's boats parked outside their houses on suburban streets. ("You really don't see that in Melbourne.")
For Michelle, the move to Sydney is simply the latest in a life marked by travel, making some of the questions in the title her own. Growing up as the young daughter of a judge, Michelle saw more of Sri Lanka than many other children. Michelle and her family migrated to Australia in 1972. She has travelled for pleasure, for work and for study as well; and has lived on three continents in the process. Some might also count her stint as a writer and editor for Lonely Planet. They all add up. Says Michelle: "Different aspects of travel have played quite a role in my life. But the questions that continue to haunt me are questions of social justice."
She was keenly aware of this while writing about Sri Lanka. "Sri Lanka attracts many more tourists than it produces," she points out. When confronted with the glib assertion that 'everyone travels these days' Michelle felt compelled to contest it – not everyone does and those who do sometimes understand little of the country they are in. In the person of Ravi, Michelle chose to challenge stereotypes of refugees (to begin with she made him Sinhalese, not Tamil) and Ravi is always himself – deeply conflicted, determinedly solitary, prone to contrariness.
Michelle recognises something of Ravi in herself. At a critical juncture in the novel, he declares: 'I do not want to be a tourist in my own country.' It's a stand Michelle has made herself. "It is painful to be back in a place where you once belonged unthinkingly and now you do not and never will belong in the same way," she says quietly. By making Ravi's path different from that of the boat people covered so extensively in the media, she also made a case for every refugee as an individual with their own story. "I suppose, it was a plea for the individuality of suffering."
That Michelle succeeds in establishing this is in no small measure a tribute to her skill as a writer. The novel's structure is true to the nature of memory, imitating life in how it speeds through the first 3 ˝ decades of the characters' lives and slows as it nears the present. Minor characters like Freda and Theo are distinctive and memorable; lingering long after their pages are past. Her epigrammatic prose is always lyrical but never overwrought. Her sentences, by turns witty and meditative, encapsulate little revelations (She says she reads her sentences out loud to test for rhythm). "I just try and describe things as accurately as possible and that's all that anyone can do really, to try to tell the truth in the face of stereotypes on the one hand and lies on the other."
Everywhere are motifs that fans will recognise: the compulsive collectors, the horticultural enthusiasts and of course the dogs. Fair Play is surely one of the most delightful canines to ever grace a literary work. Michelle says Fair Play's real life counterpart is her dog Minnie, who along with Oliver keeps her company as she works from home.
It's been 15 years since Michelle drummed up the courage to turn to writing full time and she can in all honesty say she doesn't miss the meetings. Her life is built around small pleasures – the company of her dogs, a cup of tea on the stoop, a walk in the garden. In the peace and quiet, some of her questions are answered. "I feel lucky that I have been able to live my life between two or three different places, because it shows you, if you're open minded, that there is always more than one way of looking at the world."
Follow @timesonlinelk
comments powered by

Disqus