Sri Lanka's own Tiffany
View(s):

Starting in 1855, Joonoos jewellers has had a dazzling journey. Here a fifth generation family member Mueen El Sabri Joonoos speaks to Kumudini Hettiarachchi, Pix by M.A. Pushpa Kumara

The beginnings were humble. There was no posh showroom, glass showcases with sparkling gems or assistants, but transactions were handled personally in this home-based jewellery business way back in 1855.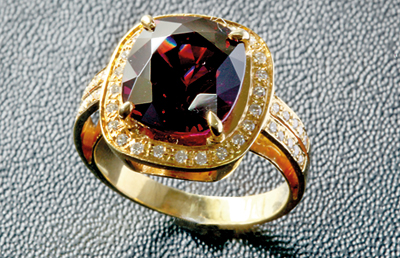 Humble it may have been but the business has stood the test of time — moving from the front rooms of Meera Cany Joonoos's home off Middle Street in the Galle Fort in 1855 to Shop No. 12 located in the Grand Oriental Hotel in Fort in 1928 to find a permanent home down Flower Road in Colombo 7, with the new brand of 'SAF's Classique' glistening under the parent company.
"M.C. Joonoos was the first jewellery production house in Ceylon," says fifth generation 43-year-old Mueen El Sabri Joonoos who now heads the company as its President, comparing it to the likes of world-famous Tiffany's (1837), Cartier (1847) and Bvlgari (1884).
Giving the lineage, Sabri turns back the pages of time to 1855 when Meera Cany first established the business and passed it down to Mohomed Joonoos who relocated to York Street in Fort in 1928.
Thereafter, came a spell when an outsider took over the business, though still at York Street, which Sabri dubs a "small gap" until it got back to where it belonged in 1935 with Haniffa Joonoos taking control. From 1935 to 1972, it was Haniffa who polished the business which passed into the hands of Bishrun Joonoos for a short three-year period from 1972-75.
It was Rafi Joonoos's turn next to stand at the helm, continuing operations at York Street from 1975-90, handing over the reins to his three sons – Sabri, Rifky and Amri.
Taking the business from strength to strength, Sabri had not only moved to Flower Road from York Street which was a high security zone in 2007 and inconvenient to clients but diversified it to establish the brand 'SAF's Classique' while also opening a second outlet at Wadduwa in 2009.
"Having been beside my father, I feel dabbling in the jewellery business is a hereditary thing," smiles Sabri, adding that he spent long hours at the shop attending to clients.
He believes that his Great-Great-Grandfather mastered the art of gold-smithy and produced fine jewellery and his beliefs are not unfounded. Numerous are the plaudits scribbled by many over the years, treasured in thick albums displayed at the store. "Patronized by the Royal Navy" during British times, from Vice Admirals to captains and many more have sung the praises of the company's jewels.
The jewel in the crown of accolades is a snippet in a yellowed news clipping referring to a "Sale of jewellery on the 'Renown'", which states that "some members of the Fort jewellers, Messrs M.C. Joonoos & Co., who are jewellers to the Royal Navy, travelled up to Trincomalee on Sunday night, and with the kind permission of the Captain, were allowed the opportunity of doing business with those on board the cruiser. They remained throughout Monday and good sales were effected. It is understood that several purchases were made on behalf of the Prince of Wales".
From the selection of gems to cutting, testing, designing, manufacturing and checking for quality, the company which employs 17 people works as a team, is the boast of Sabri, who thinks of no other gifts for his wife and daughter on their birthdays and special occasions except a "piece" from the store.
While his favourite works of art have been a set of 34.5-carat blue sapphires and a set of 27-carat rubies which included the necklace, pair of earrings, bracelet and ring each, he raves over the beauty of a 78-carat blue sapphire from Japan which he thinks of as 'No. 1 in the world'.
Now with the company spreading its glitter overseas, the markets are many, as far-flung as Europe, China, Malaysia, Singapore and India, Sabri pays tribute to his workers' talents that it has been able to manufacture jewellery for a top designer company in Japan which sells to well-known department stores.
Yellow and white gold and platinum and flawless gem stones including Ceylon sapphires of all colours, Colombian emeralds, Burmese rubies, diamonds and Belgian diamonds become their "raw material" to combine the classic with the contemporary, he explains.
When asked for the secret of the company's success, Sabri quotes what his Great-Great-Grandfather humbly put on the gift tags……."You may search the wide world over, I will not be found. But, if you go to Joonoos Jeweller, you will find me there."
With a lifetime-guarantee, the company produces "one-of-a-kind" pieces of handcrafted jewellery. These works of art can only be "found" at Joonoos Jewellers, adds Sabri with a smile.
Follow @timesonlinelk
comments powered by

Disqus