Lanka's perfume goldmine
By Charundi Panagoda
= Smuggling 'endangers' common indigenous Walla Patta
=The tree produces resin called Agarwood used in expensive perfumes which locals are ignorant of while experts, authorities scramble to protect it
View(s):
Walla Patta, scientifically known as Gyrinops walla, is a commonly seen sub canopy tree that grows in home gardens as well as in wet zone forests. So it came as a surprise when authorities learned of illicit operations to smuggle this seemingly insignificant tree out of the country.
Not long ago, Walla Patta was found to produce a resinous substance called "Agarwood" (also known as oud), which is used as a base for the world's most expensive perfumes. No one in Sri Lanka knew Walla Patta had this valuable property until recently.
"Agarwood specialists haven't had a chance to study Walla Patta," Dr. Samantha S. Fernando, biodiversity specialist and researcher attached to the University of Peradeniya, told the Sunday Times. "International specialists say they don't know if Walla Patta can actually produce Agarwood, they haven't even seen the plant. Even scientists and law enforcement officials didn't know about this, but the smugglers knew. "
A Walla Patta smuggling operation was apprehended "for the first time in history" in Kalawana, Ratnapura, earlier this year, by a rainforest officer who saw Indian men carrying bags of wood chips. A follow-up investigation revealed the smugglers were using the wood to extract Agarwood.
In the latest bust, Norton Bridge police arrested eight people including an Indonesian national for illicitly felling and transporting Walla Patta. Norton Bridge Police OIC Bandara Devatagedara said the arrestees had with them two tins of perfume oil with pictorial labels depicting the Walla Patta tree.
"The Indonesian knew how to take the important parts of the tree," Inspector Devatagedara said. "Our people didn't know. He had even brought special knives and equipment to extract Agarwood from the trees."
"Authorities are still investigating the scale of these smuggling operations. Smugglers are believed to sneak Agarwood out of the country hidden with other products such as palm oil," the inspector said.
Walla Patta is not protected under the Fauna and Flora Protection Ordinance, but cannot be taken out of the country without permission.
"Because Walla Patta has indigenous medicinal properties, to allow sustainable use, the tree is not protected under Section 42 of the Ordinance," Environmental Lawyer Jagath Gunawardena said. "But under the Forest Conservation Ordinance, any part of a tree growing in a forest is 'forest produce,' and cannot be felled, collected, transported, kept in possession or exported in any form without permission from Forest Conservation Department."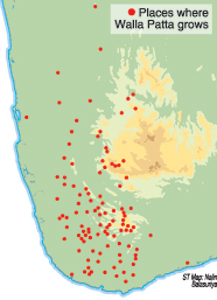 Walla Patta is listed in Appendix II of the Convention on International Trade in Endangered Species of Wild Fauna and Flora (CITES), and therefore, cannot be taken out of the country without a CITES permit, Mr. Gunawardena added.
Forest Conservator General K.B. Ariyadasa said the Forest Conservation Department had banned Walla Patta felling and exports.
"Now we have banned Walla Patta felling in protected areas," he said. "But they continue in private lands. Right now, we don't allow exports either, even from private lands. We need to continue investigations into the value and uses of this plant."
Smuggling reveals the true value of Walla Patta
"Agarwood is traditionally extracted from plants in the genus Aquilaria. There are about 15 plants in this genus that can produce Agarwood, mostly in countries such as Indonesia, Malaysia and China," Dr. Fernando said.
Agarwood is formed when the trunk and roots of a mature Aquilaria tree is infected with a parasitic fungus. The infected tree excretes a resin to fight off the fungus, which darkens and solidifies in the heartwood of the tree, and is called Agarwood. Once extracted and processed into oil, it's known to emanate a "sweet, deep but balanced" fragrance. Due to its alcohol-free status, Agarwood oil and perfumes are highly prized by Middle Easterners.
The genus Aquilaria is not found in Sri Lanka. However, there's another genus called Gyrinops, also used to produce Agarwood, but not as popularly, and Walla Patta belongs to this genus.
"Historically, it wasn't known that we could make Agarwood from Gyrinops plants in Sri Lanka," Dr. Fernando said. "It was never recorded that we could make Agarwood, if we had known, we would have also made it."
"Locals mostly use Walla Patta for bark fibre ropes for limb casts or "patta baedeema," and as medicine for serpent stings, toothaches and so on," Peradeniya Botanical Gardens Director General Siril Wijesundara said. Most locals are ignorant of the commercial value of the product and the nature of Agarwood.
"Some villagers came to us and said some 'misled' foreigners paid them for infected ('una baessa') Walla Patta trees," Dr. Fernando said. "They think Rs 500 or Rs 1,000 is good money for a tree that's not even healthy."
"In fact, world market prices for Agarwood goes up to US$ 60,000 (about Rs 7,700,000) per kilo for first grade products and US$ 25,000 per kilo for third grade products," Mr. Gunawardena said. The exact value of Agarwood extracted from Walla Patta is yet to be determined.
"Currently, the most valuable resin in the market is Aquilaria malaccensis," Dr. Fernando said. "We don't know if Walla Patta is more valuable. It's like our universities and government bodies are searching in the dark."
There's only one known published scientific study on the subject; "Agarwood-type Resin from Gyrinops walla Gaertn: A New Discovery," conducted by University of Sri Jayawardenapura Professor Upul Subasinghe and colleagues. The study compared resin from Walla Patta against commercially available Aquilaria resin and concluded that major compounds from Aquilaria Agarwood is also present in Walla Patta Agarwood.
"The compounds may be present in different percentages, but they are there," Dr. Subasinghe said. "Therefore, there is a similarity, but we need to do more research with high tech equipment."
Dr. Subasinghe, with an academic background in ecology, suspected Agarwood properties of Walla Patta as the plant belonged to the Agarwood-producing family. He thought he was the first to know, until he heard about smuggling operations from people in Balangoda and Kalutara.
"Regarding smuggling, my gut feeling is that they may mix Walla Patta resin with foreign products and sell it for low prices," Dr. Subasinghe said. "This has a huge value in the open market, if we can prove Walla Patta resin value with further research based on similarities, the government could cultivate this on a major scale like rubber. As scientists we can only suggest."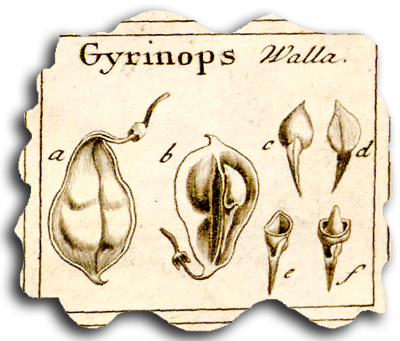 In other countries, there are Aquilaria plantations and farmers artificially inoculate the tree to make Agarwood. Mr. Ariyadasa said, cultivation in Sri Lanka for commercial purposes is also possible with more research. Dr. Fernando said there is much to be known before commercial cultivation, such as the type of fungus that the tree reacts against and how to artificially inoculate to produce the same results.
"Honestly, this is like a gold mine for Sri Lanka," Dr. Fernando said. "First, we need to stop the smuggling, otherwise the trees won't remain for research. This will be a good source of income from our rich biodiversity, and will be more environmentally sustainable than growing tea in the wet zone. Also, we need to claim patent rights for Walla Patta Agarwood before other countries do. We have a good defence, as Gyrinops walla (called after the plant's Sinhala name) was first recorded in Galle in 1780 by J.G. Konig."
Gold mine threatened
"Because of the recently discovered monetary value of Walla Patta trees, combined with the general lack of knowledge, unnecessary felling of the tree has increased. Most people don't understand healthy trees have no commercial value, but cut them down, hoping to sell them anyway," Mr. Ariyadasa said.
In addition, the infection occurs inside the bark of the tree, therefore, some cut the trees just to check for infection.
"The tree is not in the endangered situation, but the threat still exists, as word has spread that Walla Patta is valuable," Mr. Ariyadasa said. "Few know about Agarwood. The infection occurs in only about 10% or 15% of trees, so we need to advise people against unnecessary felling,"
Dr. Fernando said there are no proper governmental safeguards for the tree, considering its enormous value.
"There's a saying that Agarwood is worth more than gold," he added. "So, it's still worthwhile for the smugglers to pay our minuscule fine for violating the law, and still illegally export. It's that valuable. These operations have been going on for six or seven years.
We need to take immediate steps to protect this plant. But government bodies work slower than most; by the time they go from one meeting to another, smugglers have taken the plant out of the country."
Follow @timesonlinelk
comments powered by

Disqus