First to school: But for some it's not so
How can the country tackle the question of school dropouts? Aanya Wipulasena talks to child welfare and education officials, parents and medical experts
View(s):
Two years ago Thilina Asanka from Kesbewa had dreams for a bright future. He enjoyed attending the village school Makandana Sudarshana Vidyalaya and was determined to do well in his studies to get a job and help his siblings.
But his plans for a bright future soon turned bleak when his parents passed away.Fourteen-year old Thilina moved in with his aunt who had a bakery. Since she was a single mother and couldn't cope with the rising cost of living Thilina stayed home and helped her with work at the bakery but that didn't work out. The aunt had to sell the bakery because the expenses were mounting and she had to settle the endless loans she obtained to put up the bakery.
Now, Thinina is 16 years old. Since he had to drop out from school his interest in studies has waned and he hangs out with older village men and got used to an unruly lifestyle unlike his friends who are preparing for the Ordinary Level exams that begins on Tuesday.
Thilina's story is just one out of the 100,000 children who drop out of school annually.
According to the Education Ministry the number of school dropouts for last year was 125, 971. The highest was recorded from the Northern Province with 38, 321 cases, followed by the Eastern Province and North Western with 24, 614 and 10, 934 respectively. This indicated that the highest number was from former war-affected areas.
In the Western Province the number of dropouts stood at 10, 141 followed by 10,103 from the Central Province and 8, 012 in the Southern Province.
Yamuna Perera, Commissioner for the Child Care Department of the Ministry of Child Development and Women's Affairs told the Sunday Times in addition to financial constraints the other reason for students to drop out was the lack of nutrition and those who had fallen prey to abuse.
She added some students in rural areas kept away from school during paddy harvesting time to help their parents but returned to continue with their education.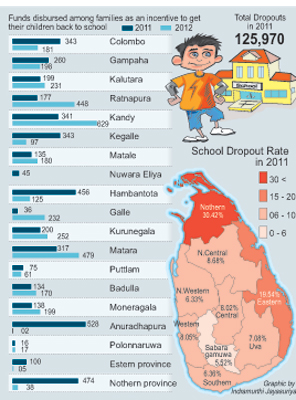 Director (Advocacy) for Save the Children, Menaca Calyaneratne said according to their research the main reason for school dropout in the war-affected north east was poverty. "Also children are compelled to go to work to provide for the family. Not having enough teachers and other facilities in the school also contribute to children dropping out of school," she said.
"I think it is sad that in a country where education is free and compulsory, children continue to drop out of school," she said adding that every effort should be taken to ensure that children get a good education otherwise the country will have generations of illiterate and uneducated people.
She said more financial and human resources should be allocated to schools by the state to ensure that students receive the full benefit of free education. "A majority of children attend extra tuition. This shows that something is not right in our education system. Quality teaching and a proper learning environment should be established to ensure that children attend school," she said.
Parents meanwhile point out that some children refuse to attend school from a young age due to problems with the teachers such as being too strict, having favourites in class or not encouraging the diverse talents of the students.
"My daughter got bad grades at school. She was not interested in schoolwork but enjoyed the dancing period because she was good at it. However, later she did not want to go to school because her class teacher scolded her and made fun of her with other teachers. She is now at home and attends private tuition classes to cover up for her school work," said P. Malkanthi, who has a 15 year-old daughter.
Meanwhile Psychology professor Madhusoodan Peruvai said when students get emotionally hurt they tend to generalise and assume that the whole system was working in their disfavour. "Especially in the adolescence period students are conscious about themselves. Due to the errors of teachers students can develop emotional problems. Also another reason for school dropouts is early employment. When students start working they find schooling insignificant. These students should be given psychological assistance to develop an interest to go back to school," he said.
Provincial education directors claim they are working towards encouraging students to attend school. Kegalle Provincial Education Director R. Abeysinghe told the Sunday Times that the percentage of dropouts in the districts was only five percent and they were children of estate workers. "The estate school only goes up to grade five and after that the parents don't take interest in sending their students to far away schools. We have taken steps to extend classes upto grade 7 and 8 to encourage students to stay in schools," he said adding they are unable to extend further due to the lack of teachers.
Hambanthota Zonal Director Y. K. Piyasena said compared to previous years this year the number of school dropouts had reduced. "We started a campaign to encourage students to study and create a study-friendly environment in Hambanthota. The children who still don't come to school are those who come from families with issues or without parents," he said.
Meanwhile, Education Minister Bandula Gunawardena told the Sunday Times that the number of school dropouts had decreased greatly and the government was doing its best to bring it even further down. "We have obtained the first place in education in South Asia Region.
We are going to continue doing well in our education sector and provide students with sufficient facilities to encourage them to go to school," he said.
The Ministry of Child Development and Women's Affairs re-enrolled 3550 students who dropped out of school due to numerous reasons this year. Last year the ministry was able to re-enroll 4317 students.
"We provide Rs. 1,500 every month for students of primary and secondary classes and give an allowance of Rs. 2,000 for the Advanced Level students. We have spent over Rs. 11 million on this project," Ms. Perera said.
She said the Divisional Secretaries look into the reasons that compelled students to drop out and re-enroll them after addressing the issues. "Upto October 31, this year 3,550 students were sent back to school and the ministry will continue this project in the future," she said.
Follow @timesonlinelk
comments powered by

Disqus